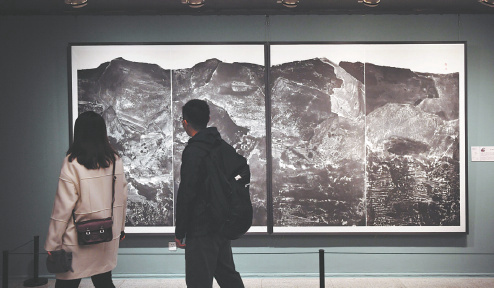 Exhibition brings together artists of the Chang'an school and their unique brushwork, Lin Qi reports.
In October 1961, six painters from the China Artists' Association's branch in Xi'an, Shaanxi province, held a group exhibition at the National Art Museum of China in Beijing to show their "exercise works" in the style of classical Chinese ink painting.
Neither the artists nor cultural circles at the time anticipated the exhibition would become a phenomenon, giving rise to a new style in Chinese ink art, the "Chang'an school of painting", after the old name of Xi'an.
The paintings on show impressed people with a refreshing representation that was rooted in the rich history and culture of Northwest China, as well as exhibiting a modern temperament and an innovative spirit.
The new look presented by the school is summarized by critics as "learning from tradition on one hand and sourcing inspiration from life on the other".
Six decades have passed and the principle is still held dear by a number of ink artists hailing from or now based in Shaanxi.