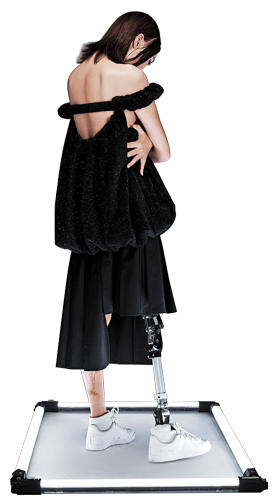 She looked stunning on the catwalk. This was not just because of her beauty or the clothes she was wearing. She also seemed to radiate an inner strength. She is not even a professional model, but her one-minute catwalk went viral on micro-blogging platform Sina Weibo, racking up more than 160 million views as of Tuesday.
When Niu Yu strutted confidently down the catwalk at the recently concluded Shanghai Fashion Week, she did it with her artificial leg in full view, and in that single action she combined beauty with courage.
"It is a really big breakthrough for me to stand on a stage," Niu confesses in an exclusive interview with China Daily.
"Losing a leg doesn't mean losing my passion for life," she says, adding that everyone has their own beauty.
The 24-year-old is a photographer in Chengdu, Southwest China's Sichuan province, who, at the age of 11, lost her right leg, which was amputated just above the knee, in the 2008 Wenchuan earthquake. It took her over 10 years to accept her new body image. It seems that society needs longer.
Having faced prejudice against the physically challenged, as well as negative and hurtful comments, Niu found her own way to challenge outdated stereotypes.
Her latest video, also taking the internet by storm, shows her walking along Chunxi Road, Chengdu's busiest commercial street, last month, with her "iron leg" lit up with LEDs. The shining prosthetic limb made it impossible for passersby not to stare.
"My prosthesis is a badge of survival and courage; of my fight for life in hospital," she says. "It is a part of me and not something to be hidden."
Actually, she says that she wants to tell all the physically impaired, who are stuck at home, to walk out on the street and enjoy the sunshine.
China has more than 85 million people with various disabilities, including nearly 25 million who are physically challenged like Niu, according to the sixth national census released in 2010.This translated into more than 6 percent of the population at the time living with some form of disability.
But this group is rarely seen in day-to-day life. Niu is an exception. And she wants the group to be seen and, with her as an example, to rally more people to join in the effort to eliminate the stigma against people with disabilities.
Her optimistic attitude toward life has warmed the hearts of social media users. Her account on short-video sharing app Douyin, known as TikTok overseas, has attracted nearly 900,000 followers so far.