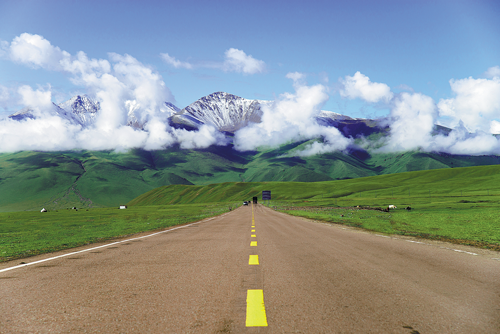 China's wide range of diverse landscapes has given rise to roads that are destinations in themselves for the breathtaking views on offer. The following 10 roads take visitors through worlds of wonder, thrill, fantasy and grandeur.
Taihang Mountains Highway
The tunnel road hangs on a cliff wall high in the Taihang Mountains in Central China's Henan province. It runs 1.2 kilometers and is 5 meters high and 4 meters wide. One of the known tunnel roads in China, it has windows of various sizes and shapes. It is said that drivers should not be distracted or they could make fatal mistakes. The precipitous Taihang Mountains were not ideal for developing spiralling roads, so locals dug tunnels instead. It took villagers about five years to build the tunnel, which offers an adrenaline-pumping journey, with its twists, turns and dips in unpredictable places. Seen from inside the tunnel road, the outside world looks like a landscape painting.
Tarim Basin Highway
For those who dream of crossing the Taklimakan Desert, the highway in Tarim Basin in the Xinjiang Uygur autonomous region is possibly the best option. It crisscrosses the desert from north to south and puts one in surroundings that might be expected in a movie about another planet. Drivers can enjoy exotic desert landscapes along the road that are often covered in sand and where barely any human settlement is visible. It usually takes about 5 hours to travel across the desert.