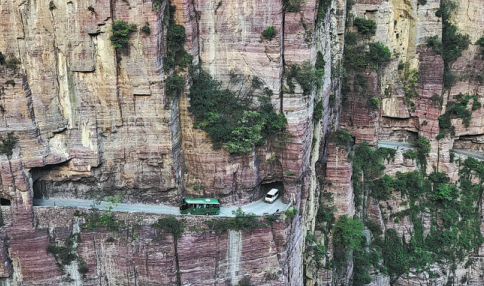 China's Route 66
The route runs in Zhangbei county, Zhangjiakou, North China's Hebei province. It is an important passageway linking the northern frontier scenic area to the grasslands of the county. Seen from on high, the route resembles a dragon meandering among the mountains. It's an ideal route for self-driving travelers to take in the vast stretches of grasslands. People can feast their eyes on the winding rivers, mountains, deep valleys, tiered farmland and flower blossoms, as well as cattle feeding in the meadows.
Sichuan-Tibet Highway
It's a beautiful yet dangerous road that runs more than 2,000 km from Chengdu, capital of Southwest China's Sichuan province all the way to Lhasa in the Tibet autonomous region. The picturesque sceneries along the road have never failed to draw daredevil travelers on wheels, especially professional photographers. Vast plains give way to steep mountains, as one moves along the highway. Deep valleys, seas of blossoms and crystal glaciers take turns to greet travelers who will also be baffled by the intense weather, which quickly switches from warm spring to cold winter.