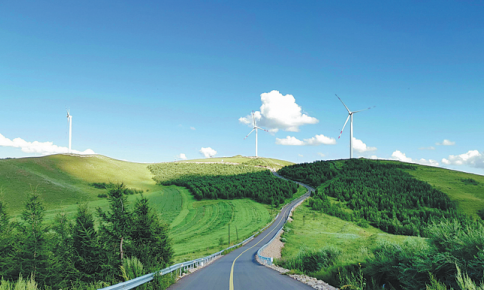 National Highway 213
The road runs from Northwest China's Gansu province across Southwest China's Sichuan, Yunnan and Guizhou provinces and is embellished with natural beauty. It was a key transportation route after the 2008 Wenchuan earthquake. In Gansu, one can savor Yellow River elements in Lanzhou, a water reservoir in Yongjing county, as well as the combination of grassland view and Tibetan Buddhism in Gannan Tibet autonomous prefecture along the road. Well-known scenic spots, such as UNESCO World Natural Heritage Site Huanglong Scenic Area and the Historic Interest Area and Jiuzhaigou Valley are within easy reach along the road.
Aizhai Mountain Road
This is in Central China's Hunan province, where the road can make one feel like one is "driving in the sky". It is built on steep mountains with 13 hairpin bends. One can see an old stone bridge about three quarters of the way up. At the top of the road is the spectacular Aizhai bridge between two tunnels above the Dehang Canyon. The bridge is said to be the world's highest and longest tunnel-to-tunnel suspension bridge, which has greatly shortened travel time between Hunan's capital Changsha and Chongqing.