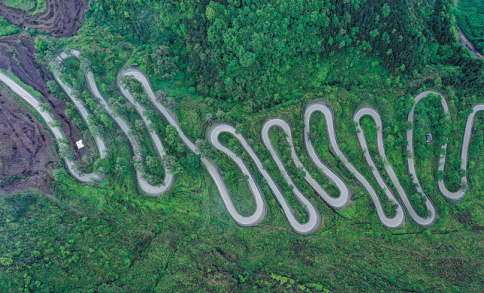 Qinghai-Tibet Highway
The highway has long been considered a heaven for self-driving travelers. It stretches more than 1,900 km from Xining, capital of Qinghai province, to Tibet. One might have to overcome the change of altitude on the road that is mostly 4,000 meters above sea level. The Kunlun Mountains, Tanggula Mountains, Tuotuo River and vast grasslands jump into view as one drives across the plateau landscape. The highway reaches its apex at Tanggula Pass, which is more than 5,200 meters high. This road also goes to Lhasa. It is not just an experience of enjoying stunning views but also serves as a balm for the soul.
Tianmenshan Winding Road
The road runs through the Tianmen Mountain National Park in Zhangjiajie, Central China's Hunan province. It is incredibly narrow and winding with tunnels and has 99 turns for drivers to tackle. It spirals rapidly upward from 200 to 1,300 meters above sea level, resembling a dragon ascending the mountains. The precarious landscape has cast a spell on extreme enthusiasts. Besides the thrill of driving, one can fully appreciate the magnificent view of the Tianmen Mountain and get a bird's eye view of nature's wonder in Zhangjiajie.