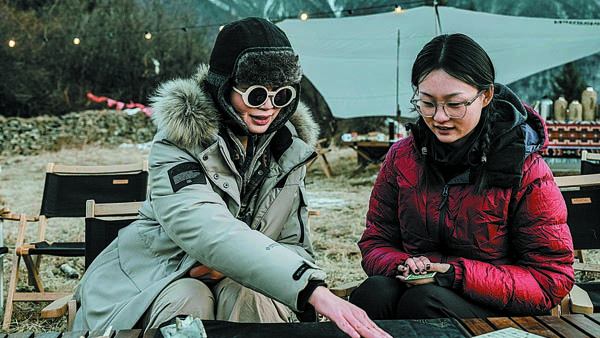 Dazou also shares her camping experiences in vlogs on social media. Her posts include making a decent cup of coffee or a meal in style while camping, as well as showing the beautiful views that greet her each morning when she wakes up. "I'd like people to know that they don't need to have a car or expensive gear to enjoy camping. Also, they don't need to go far to find a spot to camp."
She said there are always the expected and unexpected experiences during camping trips. "What's for certain is that I will embrace nature; it's in our DNA. We just tend to forget about nature after living in cities for too long. What nature gives you will surely be different every time."
Dazou now goes camping once or twice a month. She has made camping a part of her lifestyle because she feels that outdoor activity can infuse positive energy into her. "In the wild, people can see how insignificant they are for the world. The more I camp, the more peaceful I am. I really enjoy this change," Dazou said.
Su Shixiao, a Beijing resident and veteran outdoor explorer and traveler, said social media have also played a key role in making camping a popular outdoor leisure activity in China. "Camping used to be associated with roughness and survival skills because it's normally part of expeditions or long hiking trips. Now people have learned from social media that camping can also be safe, comfortable and stylish."
"For me, the moment I am most looking forward to while camping in the wild is when I wake up in the morning and unzip the tent's door, because I don't know what nature is going to present me with," Su said. He also said that he made some of the key decisions in his life while camping because he can see and think more clearly, and know what he actually wants or needs after leaving behind his burdens in the city.
"People can be affected by the energy of nature, both physically and mentally. One of my friends burst into tears after seeing the stunning starry sky at night when we camped near a (dormant) volcano in the Inner Mongolia autonomous region."