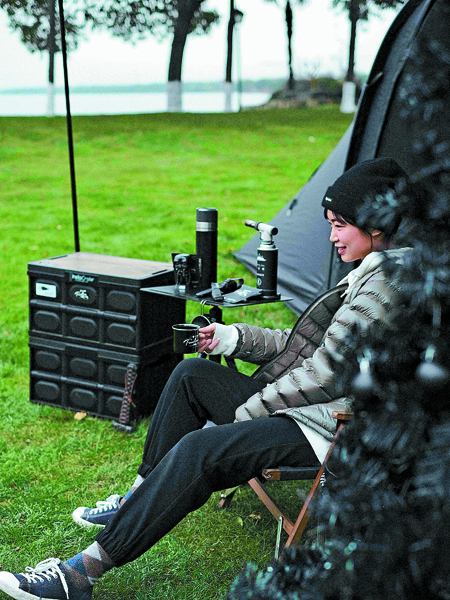 Initially, Su didn't like the idea of commercial campsites on the outskirts of big cities, for he believed that many people go to such campsites to socialize rather than enjoy the company of nature and hence they may never have the same feeling his friend had in Inner Mongolia. His view began changing this year.
"Those easily accessible campsites can be a good steppingstone for people to get involved in outdoor activities or even adventures because they can learn the basic survival skills there," Su said.
According to social lifestyle platform Xiaohongshu, the number of searches on camping during the Dragon Boat Festival holiday (from June 12 to 14) this year was about four times more than last year, with most of them being from people in Beijing, Chengdu in Sichuan province, Shanghai, Chongqing, and Hangzhou in Zhejiang province. Also, about 80 percent of those who searched about camping in 2020 were aged between 19 and 33, according to Xiaohongshu.
"Some say that an increasing number of people are showing interest in camping because they feel trapped due to the epidemic prevention and control measures. But I believe it's because the epidemic has made people reexamine their relationship with nature," Su added.
Lou Shaojie learned about "glamping" when he went on a hiking trip in Japan in 2019."I noticed the large camping equipment that are suitable for family outings when I checked out shops selling outdoor equipment there. I also liked their designs a lot, so I brought the idea of 'glamping', which has been very popular in Japan, back to China."
In 2020, Lou set up the Treeline Camping Club in Shanghai for "like-mined" people. This year, he opened a Treeline Camp near Songlin Lake in Anji county, Zhejiang, which is about 200 kilometers west of Shanghai.
The camp also provides tent hotels to cater to the needs of those who want to avoid the hassle of packing camping gear or setting up tents. "The fact is that about 80 percent of campers aren't fans of outdoor adventure. They are simply attracted by the posts or vlogs posted by social media influencers. Of course, some of them will be drawn to the outdoor lifestyle after the camping experience, but not too many of them," Lou said.
Also, some people are into "glamping" because they love decorating their tents as a hobby. They keep buying and coordinating furniture and accessories, Lou said. "People can decorate their house only once in years but they can keep changing the style of their tents, which they love to share with others and on social media."
Treeline's development can also be attributed to the exposure "glamping" has got on social media. With little input in marketing, many people already know about Treeline, Lou said. Like it or not, he said, camping has become a game among China's middle-income people and a costly, trendy activity when it should be all about enjoying nature and learning survival skills.
"My goal is to let people in Shanghai know that exploring nature isn't as difficult as they think. Gradually, they may want to explore further by going on outdoor trips, in which camping is all about ... practical (skills) and survival," Lou said. But "we cannot deny that the popularity of 'glamping' has made more people want to step outside the city and get closer to nature, which is always a good thing".
Wang He, co-founder of ABC Camping Village near Qiandao Lake in Hangzhou said she's seen a steady growth in the number of campers during the six months' soft opening period this year without launching any marketing campaign. The company is also constructing another campsite, which is also expected to be officially opened to campers in October.
Equipped with toilets and shower facilities, the campsites also offer camping equipment, including branded tents, furniture and lighting equipment, on rent.
"The epidemic has accelerated the development of China's camping business at an unprecedented speed, as people are looking for more leisure activity options within the country," Wang said.
"But even without the outbreak, I believe more people would be enjoying camping. Indeed, for many, outdoor activity will become a part of their lifestyle."
Wang said that what makes camping or "glamping" such a fulfilling experience is nature. The joy of having good and practical camping gear is like the icing on the cake. "I am not obsessed with camping gear nor will I deny the pleasure they bring to me."
Perhaps reflecting Wang's pleasure, Dazou has shared some of her new camping equipment in one of her recent vlogs. "For campers, the urge to embrace nature is the most important thing. There is no point in people camping if all they want to do is play mahjong all day," Dazou said.