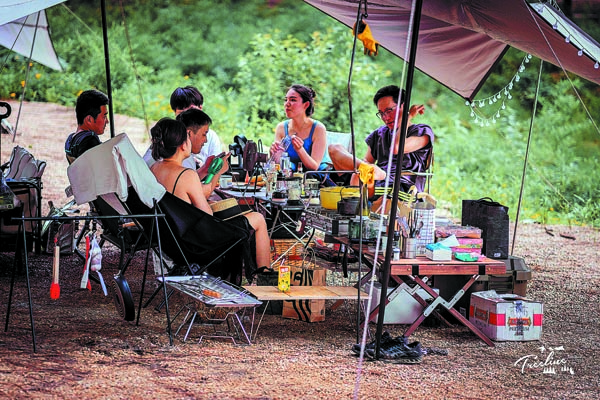 The pandemic-induced restrictions on travel have prompted many to pursue recreation outdoor
When the sound of a Granny Smith falling from a tree on her tent woke up Dazou at a campsite in Zhongwei city, Ningxia Hui autonomous region, she felt her senses had sharpened. The joy of being stimulated, even powered by nature is what makes her go on camping trips frequently, she said.
"You won't notice those details such as the sound of an apple falling or a gentle breeze blowing when you are in big cities full of noises caused by human activities. But you can feel the changes in nature when you are a part of it," she said.
People's craving for connecting with nature has intensified because of the COVID-19 pandemic. Like many campers and campsite founders, Dazou, who only wishes to use her name on social media, said that without a doubt the pandemic has significantly boosted the development of China's camping-related business, such as the sale of camping equipment. Also, an increasing number of campsites have come up near big cities.
Dazou had her first camping experience when she visited Yosemite National Park in the United States in 2016."We camped there for three days with no cellphone reception and went on different trails everyday. For the first time, I felt the connection with nature ... it was a memorable moment in my life," she said.
Like many people, the 31-year-old who works for a high-tech company in Shanghai was asked to work from home when the epidemic broke out in January last year. Since the isolation made her miss the outdoor experience that brush with nature, she started searching for camping possibilities in China and tried to find commercial campsites around lakes or in forest areas.
Unlike traditional campers who try to minimize the weight of camping gear such as tents or cookware, some people now like to camp in style so they've invested heavily in camping gear that are functional and fashionable, as well as comfortable. More important, they have made camping very photogenic. It is called glamour-camping or "glamping".
"I don't want to fall into any category, my choice of gear depends on what kind of experience I want to have. I sometimes choose to ship heavier gear to the campsite in advance and then travel there using public transportation with just my backpack," Dazou said.