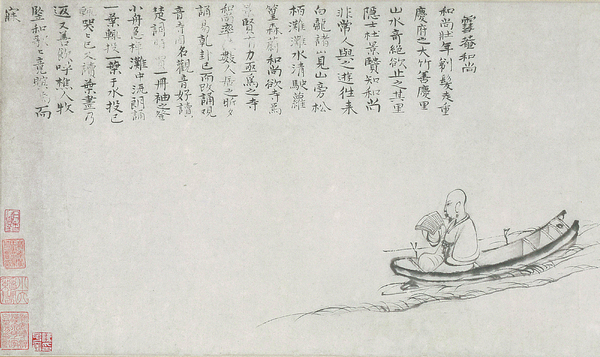 "At this exhibition, we can admire the elegant artistic style of the paintings," Ren says. "But it's also a chance for visitors to know the stories of the literati spirit.
She adds: "When being put in the context of stories, Chinese figure painting becomes a key way for admonition or education.
"That's a major difference between Chinese figure painting and Western portrait art, which mainly focused on the realistic reflection of people."
In an exhibited painting by Shi Tao from the early Qing Dynasty, a farmer turns down an offer made by Shun, a ruler who was thought to have lived more than 4,000 years ago, to succeed his throne, because the farmer thought Shun's "virtue was not perfect".
Nevertheless, hermits would stand out when they were needed by the country.
In a Ming Dynasty (1368-1644) painting, Shangshan Sihao Tu, by Dai Jin, four nobles live in hermitage to distance themselves from the tyranny of Qinshihuang, the first emperor of the Qin Dynasty (221-206 BC), and refuse to return to politics for Liu Bang, founder of the Han Dynasty (206 BC-AD 220). But they finally accept the invitation made by Liu's crowned prince.
In ancient China, many scholars referred to paintings to express their political ideals. During the Song Dynasty (960-1279), literati paintings rose to become the mainstream of Chinese paintings. A large number of paintings then reflect scenarios of scholars' everyday life in hermitage. According to Ren, these paintings, on the one hand, reflect the scholars' refined taste in life and their wish to deliberately distance themselves from fame and wealth, and on the other hand, express admiration for a free lifestyle.