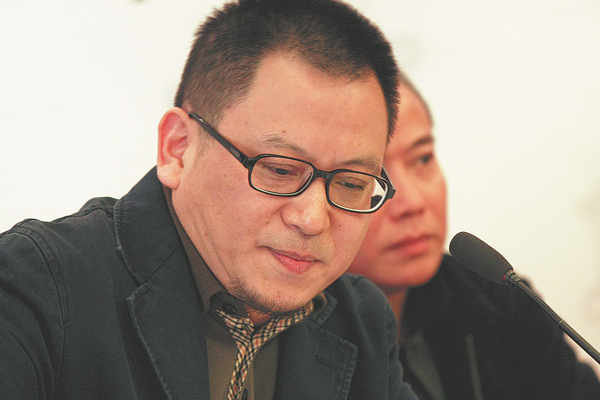 Tan's another work, double concerto for pipa (a Chinese lute with four strings) and guzheng (a Chinese zither), will also be performed by pipa player Han Yan and guzheng player Su Chang. Composer Igor Stravinsky's The Firebird Suite will be played, too.
On Feb 27, Tan's music piece Buddha Passion will be performed by the China Philharmonic Orchestra under the baton of Yu. Inspired by the ancient city of Dunhuang and its awe-inspiring Mogao Caves, this monumental work, sung in Chinese and Sanskrit, is scored for seven soloists, choir and orchestra. During the concert, singers, Guo Sen, Zhu Huiling, Gong Linna and Wang Chuanyue will perform together. When Tan prepared for the piece, he visited Dunhuang and also tried to replicate musical instruments, especially the pipa, images of which are found on the cave walls, with the help of luthiers and experienced instrument craftspeople.
On Nov 7, composer Chen Qigang's music works: Er Huang for piano and orchestra, and Un Temps Disparu for erhu and orchestra, will be performed during a concert conducted by Yu. The concert, dedicated to Chinese and French music, will also bring French composers Claude Debussy's Prelude to the Afternoon of a Faun and Maurice Ravel's one-movement orchestral work Bolero. Pianist Yuan Fang and erhu player Tan Wei will perform in the concert.
Born in Shanghai in a family of intellectuals in 1951, Chen graduated from the Central Conservatory of Music in Beijing and studied in France in 1984, learning from the late French composer Olivier Messiaen. He was the music director for the Opening Ceremony of the 2008 Beijing Olympics and composed the song You and Me.
Guo, Tan and Chen are among the best-known Chinese composers, who were the first students to be admitted to the Central Conservatory of Music in 1978, after the "cultural revolution" (1966-76). They've also built a reputation in the world with their music.
"I visited Chen Qigang several days ago when he had his 70th birthday at his home in Beijing. We had noodles and talked for a while. Those Chinese composers have made great achievements and they've created their own languages by using Western classical music to tell Chinese stories. They used traditional Chinese musical instruments in their compositions, which made their music unique and it was appreciated by Western audiences," says Yu.
In the new season, a concert, which will be held on Jan 26, at the Forbidden City Concert Hall, featuring eight top players of traditional Chinese musical instruments is highly anticipated and as Yu says, it will be the first time these musicians gather together in one concert. The musicians include erhu player Song Fei, pipa player Zhao Cong, guzheng player Ji Wei and banhu (two-stringed spike fiddle) player Jiang Kemei. Under the baton of conductor Yu, they will perform both classical and contemporary pieces written by Chinese composers.