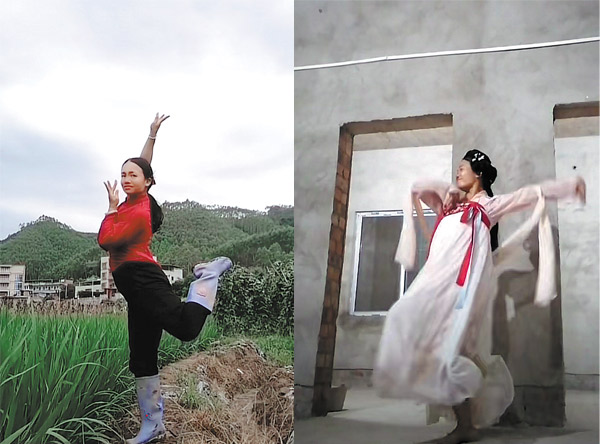 Dancer attracts huge online interest as she moves to her own rhythm in rustic settings, Wang Qian reports.
For Wei Manchun, her stage doesn't need a spotlight. When the music starts, she forgets everything else and dances, wherever she is.
She has two personas. In cyberspace, she is a 37-year-old dedicated dancer, whose clips feature her in action during or after farming her land, cooking for her family or taking care of her younger son.
In reality, she takes care of two sons and her mother-in-law in Jinjiang village in South China's Guangxi Zhuang autonomous region. Wei described herself as a "left-behind "woman, because her husband works tens of kilometers away from home, as a security guard in Nanning, capital of Guangxi. Like most "left-behind" women in her village, Wei faces the unrelenting tasks of housekeeping, child rearing and farm life.
However, on social media, she is happy marching to the beat of a different drum-a dedicated dancer, although she has never had a dance lesson. On short-video platform Douyin, she has attracted about 110,000 followers and her dancing videos have received more than 2.3 million thumbs-up emoji. Since May last year, she has uploaded more than 200 clips recording her dancing. One of the most-hit clips was uploaded on May 28 about her dancing a popular Chinese classical dance, Huo Yuanjia.
In the clip, Wei in blue rubber boots starts dancing to the music while tackling weeds walking between rows in a field. She writes in the caption accompanying the 29-second video that "weed control is very boring and I will continue after dancing, which is a way for me to relax".
The response to the video is "beyond expectations", Wei says. To date, it has been shared 14,000 times, generating about 1.3 million likes and 75,000 comments.
"Dance has made me happy and confident and I hope my story can encourage more women like me to enjoy dancing," Wei says.
It is not only her in-step dance moves that are winning netizens' hearts, but also her attitudes toward life. A Douyin user named Happy Mommy appreciates her videos, saying: "The mud under your feet is similar to life's difficulties that everyone faces, but your beautiful dance seems to inspire people that no matter how hard the road may be, keep smiling."