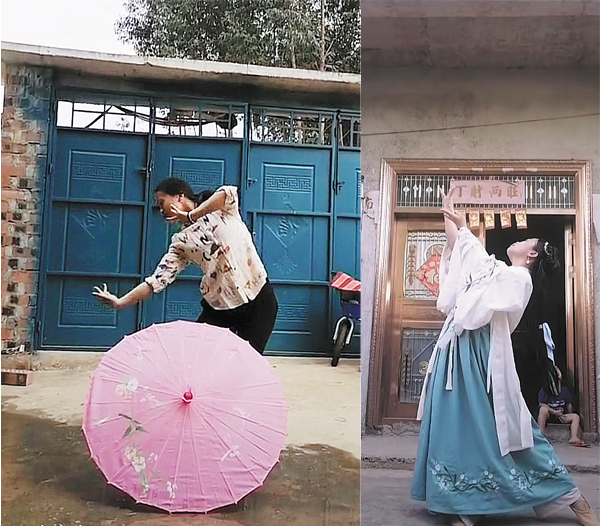 Feel the passion
In her first 35 years, Wei didn't think that she could dance. She didn't have any confidence in her ability since primary school. Indeed, many times Wei tried to learn dance moves for shows in school, but failed to impress.
Then things changed in 2018, when she saw a Chinese classical dance by a group of kindergarten teachers at a gala celebrating international Women's Day (March 8) in the village.
"The dance caught me and I started to imitate the moves," Wei remembers. Answering why such dance attracts her, Wei says Chinese costume dramas are her favorites. She immediately felt drawn to both the classical clothing and the graceful movements.
At that time, she worked for the village committee when her second son was about 2 years old. Before getting pregnant in 2016, Wei had worked in a bank and then at electronics manufacturer Foxconn in Nanning after getting a junior college degree. She had to quit her job in the city and come back to village due to severe sickness during the pregnancy.
The transition from an urban worker to a "left-behind" woman was hard to accept for Wei at first. But dance illuminated her life in the dark days.
After finding and recognizing her passion, a notice calling for performances at a gala made Wei come up with the idea of setting up a dance team in the village.
She tried to persuade other women to join the team, but the response was, well, less than enthusiastic. She was determined not to give up. Wei started to learn a simple dance online by herself in just one week. During that week, she viewed the video hundreds of times and practiced every move until she got it right. For the movements which she could not achieve, she changed them to less complicated ones.
Her efforts paid off. One week later, the Jinjiang Village Ganhuaipo Dance Team was founded, with nine women, with Wei as the teacher. All were in their 30s to 50s. Each donated 50 yuan ($7.72) for music equipment.
Although the members, mostly "left-behind" women like Wei, were busy with household chores, they kept practicing every night for three months. The team was finally ready for the gala.
From then on, they have been available for other galas or shows. Gradually, their dance has even attracted people from nearby villages though the initial response was not always flattering.
"In the first year, we faced many mean comments. Some criticized us for being old, ugly and fat and some criticized our dancing for being disgraceful," Wei recalls. But, she adds, the support from their families kept them going.