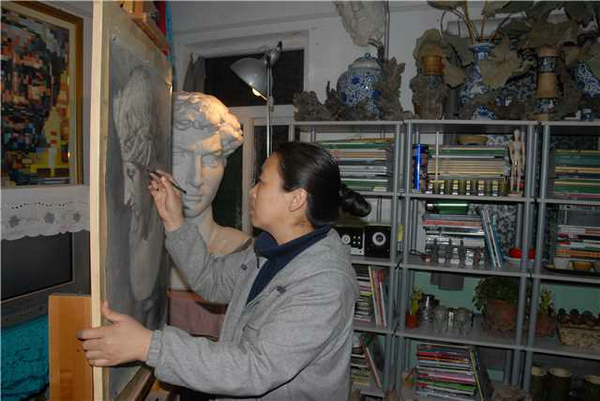 Profile
The academic circle has different conclusions on the origins of Nv Shu: some refer it to as a regional development in Hunan from the oracle in the Shang Dynasty (c.16th century-11th century BC); and some suggest it could be traced back to the Han Dynasty (206 BC-AD 220), the Song Dynasty or the Ming Dynasty (1368-1644).
Currently, Nv Shu only has a few thousand inheritors in China, mostly living in Jiangyong, Hunan, and nearby counties, including Daoxian county and Jianghua Yao ethnic autonomous county, and some 10 Yao ethnic autonomous counties in the Guangxi Zhuang autonomous region.
The language, different from traditional Chinese' writing system of ideograph, is a kind of phonograph, based on local dialects, and was only written in the shapes of long diamonds and in the styles of poems.
They are mostly published on beautiful papers, books, fans and silk scarves and were believed to carry secrets held by women.
It was discovered in the early 1980s and hailed as a major breakthrough.
The film Snow Flower and the Secret Fan by US filmmaker Fox and some Chinese filmmakers in the 2000s gave the language a big publicity boost when it hit the global film market in 2011. The story revolves around a particular friendship and has Nv Shu as the background of the story.
Zhao Liming, a professor from Tsinghua University, one of the authoritative researchers on Nv Shu, says: "Nv Shu is a major achievement of female civilization, and is a reflection of women's spiritual world."
Hu Xin, 33, a government recognized "Nv Shu ambassador" and the youngest Nv Shu inheritor in Jiangyong, is busy writing Spring Festival couplets in Nv Shu in her hometown.
Last year, she sent up to 1,000 couplets to local residents and Nv Shu fans as New Year gifts.
She says: "I expect the script to be inherited more widely. Nv Shu has witnessed major innovations in recent years, expanding its content. I expect more youth to focus their attention on the cultural assets."
Contact the writer at yangcheng@chinadaily.com.cn