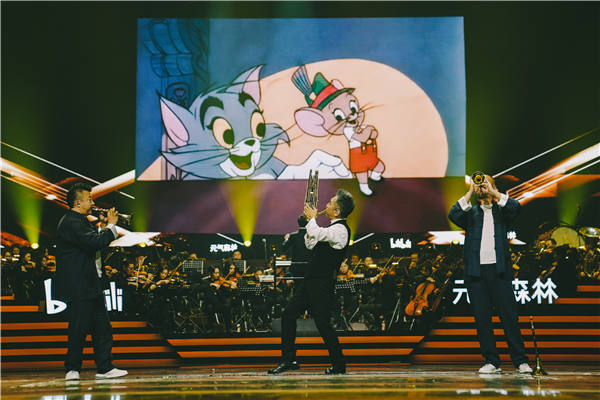 The video site Bilibili presents a New Year gala that appeals to younger viewers, Chen Nan reports.
Many people just wanted to say goodbye to 2020 because of the COVID-19 pandemic. And many celebrated New Year's Eve by watching galas online or on TV from the comfort of their homes.
On Dec 31, Chinese streaming platform Bilibili broadcast its 4.5-hour gala, featuring a star-studded cast that included pianist Lang Lang, rock singer-songwriter Cui Jian and rock band Mayday. The gala was viewed 120 million times within 48 hours.
Featuring programs from Beijing, Wuhan, Hong Kong and Taipei, the gala, titled The Most Beautiful Night of 2020, had a "rebirth" theme, in a bid to inspire people after the most challenging year of the 21st century to move forward into the future and to give them support and encouragement.
The countdown to the new year was livestreamed from Wuhan, Hubei province, featuring Yangtze River cruise ship horns and a light show.
A nine-minute performance led by Peking Opera artist Qiu Jirong received warm feedback from fans because it gave the traditional art form a contemporary twist.
The performance, titled Jing Hong (The Elegance of Traditional Opera), was set in Qiu's dreams, where he combined contemporary dance and classic pieces from six Chinese art forms: Peking Opera, Kunqu Opera, Qinqiang Opera, Pingju Opera, Chuanju Opera and Hebei Bangzi.
Qiu walked and danced, and interacted with performers playing the classic pieces. Audiences enjoyed the power and beauty of the traditional Chinese art forms.
His dream ended with the classic Peking Opera piece, Zha Mei An (The Execution of Chen Shimei). An original soundtrack from the 1964 Peking Opera movie Qin Xianglian featured in the last part of Qiu's performance. Qiu danced to the song by his grandfather, Qiu Shengrong (1915-71), who died before Qiu Jirong was born.
Qiu Shengrong was one of the best-known Peking Opera artists and developed a new performance style, known as the "Qiu school".
"When I heard my grandfather's voice, I felt like I had traveled back to his heyday and had a conversation with him," says Qiu Jirong, whose father, Qiu Shaorong, was also a celebrated Peking Opera performer.