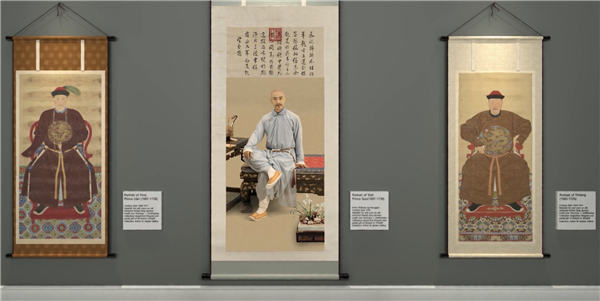 In an online program, Chinese Paintings' Adventure, real actors bring to life some artworks, such as Xihu Yinqu Tu by Qian Xuan of Song Dynasty (960-1279), which depicts a reclusive poet, his disciple and a crane appreciating plum blossoms, and  the Portrait of Yunli, Prince Guo, believed to be the work of Mangguri (1672-1736), both of which are housed at the Palace Museum. [Photo provided to China Daily]
The show's viewers are mostly people aged from 18 to 24, Zhu says. To appeal to the younger audience, scriptwriters of the program tried to connect the people depicted in the ancient Chinese paintings with contemporary life.
For example, from the famous paintings by Su Hanchen, viewers are offered an insight into the lives of children during the Song Dynasty (960-1279). One of the paintings, titled Jiaoyin Jiqiu Tu, or Children at Play in Summer-currently housed at the Palace Museum in Beijing-captures the lovely spirit and appearance of children playing a ball under the shade of a palm tree. Their mother is looking at them with a smile on her face.
The actress playing the role of the mother not only keeps her children company but urges them to finish their homework.
"Parents' role in homework is a common topic now," says Wu Zijuan, director of the show, Chinese Paintings' Adventure.
"The mother in the painting is characterized as a mother, who wants her children to play outside and, at the same time, feels the need to get her children to do their homework as soon as possible. This conversation between a mother and her children is commonly seen nowadays."