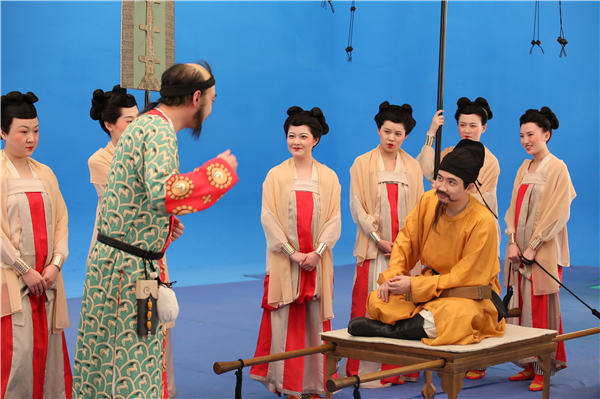 Actors bring the paintings to life by imagining the conversations that might have taken place between the featured characters. [Photo provided to China Daily]
For any of the viewers, who have wondered about what was happening in those ancient Chinese paintings, the show provides an imaginative glimpse with humor and a connection to contemporary life.
Premiered on Aug 19, the 30-episode show, with each episode lasting around five minutes, has based its content on 14 famous ancient Chinese paintings, spanning from the Five Dynasties and Ten Kingdoms (907-960) to the Qing Dynasty (1644-1911).
"Our goal is to popularize ancient Chinese paintings among the viewers and to make art education fun, simple and easy to comprehend. We want them to learn the history of, and the stories behind, the paintings in an interesting way," says Zhu, the program's executive producer.
The company released a seven-episode docudrama last year titled War of Seven Kingdoms, which introduced the history of the Spring and Autumn Period (770-476 BC) and the Warring States Period (475-221 BC). It was a huge hit.