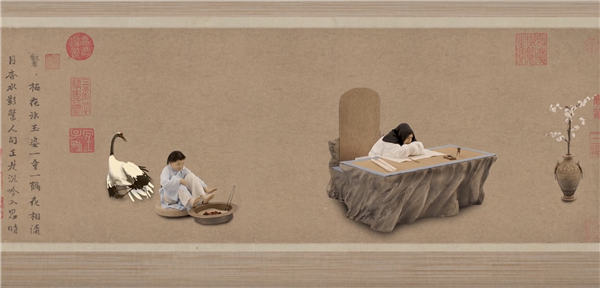 In an online program, Chinese Paintings' Adventure, real actors bring to life some artworks, such as Xihu Yinqu Tu by Qian Xuan of Song Dynasty (960-1279), which depicts a reclusive poet, his disciple and a crane appreciating plum blossoms, and the Portrait of Yunli, Prince Guo, believed to be the work of Mangguri (1672-1736), both of which are housed at the Palace Museum. [Photo provided to China Daily]
The first episode of the program, Chinese Paintings' Adventure, features Court Ladies Preparing Newly Woven Silk by Tang Dynasty (618-907) painter Zhang Xuan-the existing copy of which is now housed in the Boston Museum of Fine Arts. The painting provides a precious insight into the women working in the ancient royal court.
To make the painting come alive, the show has 12 actresses play the 12 characters depicted in the painting. These include women pounding silk with wooden poles and sewing and ironing freshly-woven silk.
The actresses also have conversations while working. They complain about the demanding job, talk about the different kinds of work assigned by the boss and make fun of one another's techniques.
"I learned about this painting from a textbook in school. The women in the painting are so vivid when they start to talk," commented one fan named Yu Guanghan on micro-blogging platform Sina Weibo.
"The actresses look exactly like the women in the painting. They talk and joke just like we do while working in the office, which is very interesting," commented another fan, Ma Da. "Though the conversation may not be real and was written by the scriptwriters, it's fun to watch."
According to Zhu, so far, the show has received over 26 million views online, which is beyond his expectations.
"It shows that the audience loves this creative way of introducing ancient Chinese paintings," says Zhu.