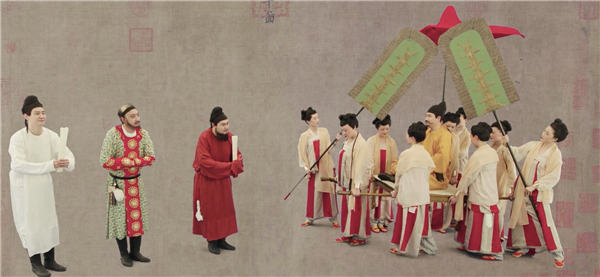 Actors and actresses re-create Bunian Tu, a renowned Tang Dynasty (618-907) painting by Yan Liben, also housed at the Palace Museum, of which shows Emperor Taizong receiving a Tubo envoy. [Photo provided to China Daily]
Famous paintings are re-created to provide a contemporary twist for viewers, Chen Nan reports.
What do you think when you look at an old painting? Maybe you consider its history, maybe the stories of the people featured in the frame, or the message delivered by the artist?
"A truly great painting with hundreds of years of history carries a sense of motion within it, whether in the gestures of the people portrayed in it or the emotion expressed," says Zhu Lexian, director of the documentary studio within Tencent Penguin Pictures.
"However, normally, the paintings don't actually move and we try to make it happen," Zhu adds.
That's right. Zhu and his team make art that moves. People act out the images in the paintings and bring them to life. This is living art, one of a kind.
They have created a program, entitled Chinese Paintings' Adventure, which transforms Chinese art history's most celebrated paintings into live pictures featuring real actors and actresses.