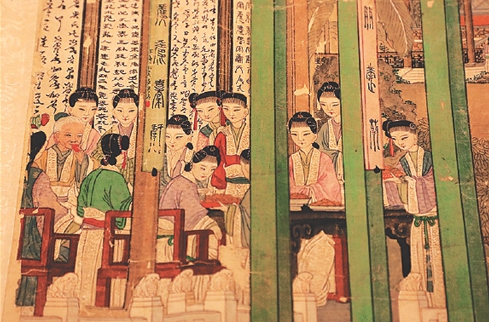 A painting on display.[Photo provided to China Daily]
Opened in December at the National Museum of China, an exhibition titled The Sole Pinnacle and an Immortal Masterpiece pays tribute to Cao and his only known literary work.
A selection of editions of Dream of the Red Chamber published during the Qing Dynasty (1644-1911) are on display at the show, alongside related artifacts that reflect the social context in which Cao lived and wrote.
Suspended on Jan 25 amid the growing coronavirus outbreak, the exhibition can still be visited online.
The exhibition also gathers together a range of adaptations and other works inspired by Dream of the Red Chamber, a time-honored work that remains more popular than any other piece of Chinese literature.
Bai Yuntao, deputy director of the National Museum of China and exhibition curator, says, "Dream of the Red Chamber is recognized as the epitome of Chinese culture and history, embodying aesthetic values in terms of poetry, music, architecture and other forms of art. It is also considered a literary peak difficult to be exceeded in terms of quality and influence.
"Ever since its birth, the novel has garnered a myriad of praise."
He says the exhibition's title is taken from a commentary by Liang Qichao, a noted historian, philosopher and politician who lived during the late 19th century and early 20th century.
Liang said, "When talking about Chinese novels, Dream of the Red Chamber is the sole pinnacle and an immortal masterpiece that makes other works not worth mentioning."
"Liang spoke highly of the work, although his opinions sound a little too assertive," Bai says.
Liang commented in another article that, "People who read Dream of the Red Chamber always feel a lingering attachment to it, or a sadness caused by it."
Bai says the selection of documents and artifacts related to Cao and Dream of the Red Chamber have been drawn from the collections of a dozen museums, libraries and other cultural institutions from around the country.