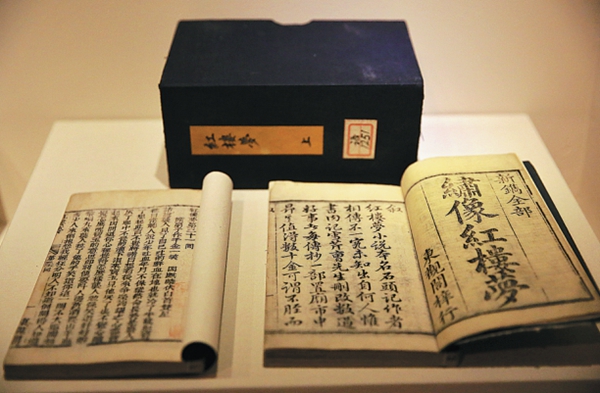 A Qing-era edition of Dream of the Red Chamber with illustrations on show.[Photo by Jiang Dong/China Daily]
He Weiguo, executive secretary-general of the Society of Dream of the Red Chamber in Beijing, says the last, similarly grand celebration of this masterpiece was in 1963, when an exhibition was held at the Palace Museum to mark the 200th anniversary of Cao's death.
He says with its unprecedented solemnity and scale, the exhibition in 1963 introduced the historical context in which Dream of the Red Chamber was born, presented several editions of the work and charted the development of Redology and presented other relevant artifacts, as well as Cao's biography.
He says the 1963 show not only honored the memory of Cao, but also offered an insight into the cultural depths of the novel and its influence. He adds that the exhibition will only serve to further deepen study and interest in the novel, and as many members of his society were involved in organizing the exhibition, they plan to give talks about their latest academic findings.
The ongoing exhibition also includes new editions of the novel and related documents and objects of historic value which have emerged ever since the 1963 show.
For example, a refined and detailed album of 230 paintings, which narrates the story of Dream of the Red Chamber and took the 19th-century painter Sun Wen some 36 years to complete, is also on display at the show. It was rediscovered in the collection of Lyushun Museum in Dalian, Liaoning province, in 2004 and reintroduced to scholars of Redology.
As well as the new academic depths it achieves, the exhibition will also present a carnival for Dream of the Red Chamber aficionados where they will be amazed by all kinds of peripheral collectibles that have been produced to exemplify the novel's far-reaching influence.
The eye-catching objects on show include colorful yuefenpai calendar posters and commodity posters, popular during the first half of the 20th century, which depict scenarios of Dream of the Red Chamber and mostly feature leading figures of the time such as Jia Baoyu, Lin Daiyu and Xue Baochai.
One poster shows Baoyu and Daiyu visiting Miaoyu, another main character who was a Buddhist nun who also resides at Daguanyuan, or Grand View Garden, which provides the setting for much of the story.