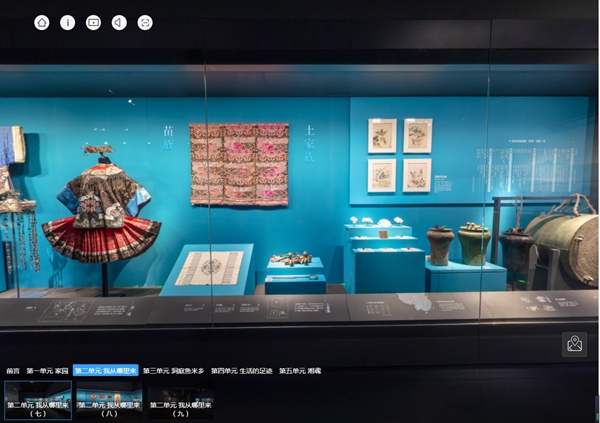 A screenshot of part of the online gallery of the Hunan Museum featuring ethnic groups' tools and clothes.[Photo provided to China Daily]
In recent years, many museums have had digital exhibitions. As in the past, QR codes are provided on social media by the museums for people to easily access their collections online.
The National Administration of Cultural Heritage has so far recommended around 50 such exhibitions through its official account on WeChat. Chinese culture enthusiasts who had earlier planned to physically visit museums during the vacation, but are staying indoors due to the epidemic, have welcomed the digital shows.
The cultural administration further announced on Saturday the opening of national databases of the country's cultural institutions, including even more information on registered cultural relics, "unmovable" cultural heritage sites (referring mainly to ancient architecture and historical monuments), digitized images of statues and frescoes, and more content for public-viewing.
In a letter to Guan Qiang, deputy director of the National Administration of Cultural Heritage, Suay Aksoy, president of the International Council of Museums, writes: "We have learned that following the closure of museums … your organizations have been campaigning for and promoting a maximum use of the museums' online exhibitions and other projects to minimize the effects of the closures.
"We applaud the actions taken by China during these extraordinary days of the coronavirus emergency.
"It goes without saying that ICOM is always ready to help in any way that is possible within our mandate."
Museums are also joining hands to fight the virus. The National Museum of China has donated 5,000 medical masks to the Hubei Provincial Museum to support its preventive efforts. In a letter of thanks to the national museum, Fang Qin, director of the Hubei museum, writes: "This gives us impetus to perform well during this campaign."