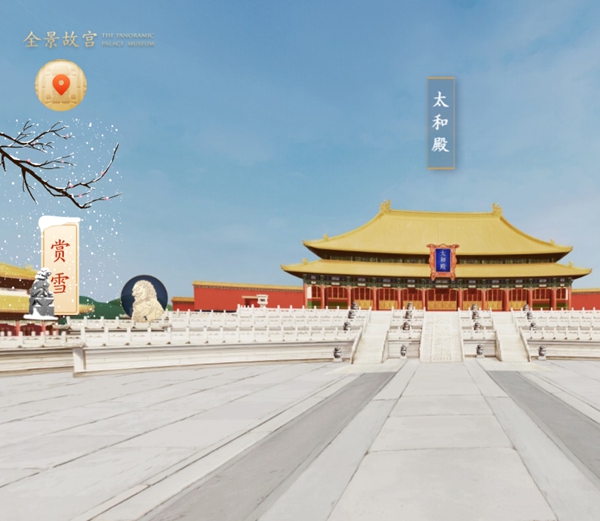 A virtual reality view of the Hall of Supreme Harmony, part of the Palace Museum's online tour project.[Photo provided to China Daily]
In Beijing, the Palace Museum and the National Museum of China, with the biggest collections of cultural relics in the country, announced they will remain closed until further notice. The Capital Museum had earlier planned to take measures such as setting daily caps on visitor numbers and cutting educational and celebratory events, but it has also announced its closure for now.
"We had already prepared many activities for you during Spring Festival. However, in our point of view, it is vital to control the virus and ensure your safety," says a notice from the museum.
According to the demand by the National Cultural Heritage Administration, hygiene, public security and fire departments in museums across the country have to stay vigilant during the closure, and their social media accounts need to stay active to respond to questions from visitors.
However, this does not mean people are now thoroughly isolated from cultural treasures.
On Jan 27, the cultural administration held a special meeting to encourage museums to launch online exhibitions of their collections, making full use of the digitization projects of recent years.
"It will promote the combination of new technology and inheritance of our country's cultural heritage and gather resources of the museums through 'cloud' displays," a statement from the administration says.
Many museums followed suit as people continue their "visits" to these venues via virtual means.
The Palace Museum, for example, has adopted virtual reality technology to offer online tours. The project, named Panoramic Palace Museum, covers all major places of interest within the 720,000-square-meter compound. The Capital Museum, Suzhou Museum in Jiangsu province, Hunan Museum in Changsha, and many other such institutions have also "opened" their galleries digitally.