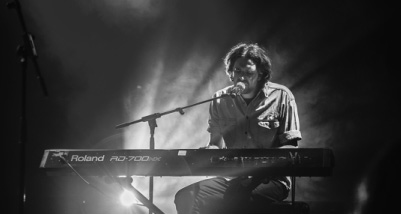 Luke Thompson performs in Shanghai. [Photo provided to China Daily]
"It (the platform) is among the social media available to artists to connect to their fans in China, and those who have invested their time and efforts in cultivating their Chinese fans have definitely benefited. The fans are now eager to familiarize themselves with more music genres that have traditionally been dominated by Western artists, so the opportunity is there for these artists to reciprocate that interest via social media."
With the daily number of user-generated playlists standing at nearly 1 million, comments at 1.6 million, and shares at more than 10 million, users spend an average of at least 1.5 hours a day on the service.
With Chinese music fans embracing a variety of genres, international artists such as Dutch disc jockeys R3HAB and W&W have built a strong profile in the country in collaboration with Net-Ease Cloud Music.
Other artists, including singer-songwriters Kim Taylor from the US and J.Fla from South Korea, have gained more popularity in China than at home.
Daniel said: "While the rest of the music world was evolving in one direction, China's music market was moving in a different direction and at a different pace.
"But with the internet, everything rushes into China from the rest of the world, but often without context or chronology. So, part of the challenge for international artists and potential fans is to try to find a match musically, especially when the potential audience is not aware of the background of the music, genre or artists. As such, social media has taken on a more important role in providing more musical context."
In addition to online music platforms, the Chinese record company Modern Sky, one of the largest indie labels, also helps bring foreign artists to the country. In 2006, it launched its first overseas office in New York, while in 2017, it opened Modern Sky UK in Liverpool, northern England.
The overseas offices sign local bands as well as introducing them to Chinese fans via social media and the Strawberry Music Festival, an annual outdoor event held in a number of Chinese cities.
The label, launched in 1997 by rocker Shen Lihui, has held sold-out concerts for international acts, including Australian singer-songwriter Lenka Kripac and Brett Anderson from the British rock band Suede.
It has signed nearly 100 Western bands and singer-songwriters, and in December last year launched the Modern Sky International Artist Booking Agency, which represents 17 international acts, including Wednesday Campanella, a Japanese group, and the British four-piece alternative rock band Wolf Alice.