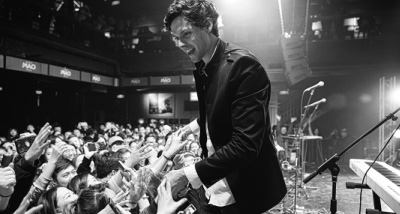 Crew interacts with his fans in Beijing. [Photo provided to China Daily]
One fan who watched Crew's show in Beijing on Dec 2 at Mao Livehouse, commented on the artist's Weibo account the following day: "I discovered Galen through the song Sleepyhead and I enjoyed his music, which is warm and uplifting. His music gives me so much courage to believe that everything will be OK."
Another fan, who wrote to Crew, said: "We are cheered by your musical work. Sometimes life is difficult, but your music is always warm."
Crew wrote Sleepyhead with British songwriter Roger Cook, who is a friend of his. "It was very surprising to me at first when the Chinese responded to this song so much. Now, one of my favorite moments in the show is to perform Sleepyhead, because the Chinese fans sing along to every word."
Meanwhile, New Zealand singer-songwriter Luke Thompson has begun his first tour of China, appearing in Shanghai, Beijing and Hangzhou, capital of Zhejiang province.
"Before I gave my first show in Shanghai on Dec 8, I thought there would be about 20 people in the audience. But I was surprised to see over 200 show up," Thompson said in an interview before he appeared in Beijing on Sunday.
The self-managed artist has released albums, including To the Common Dark in 2012, Strum Strum in 2015 and Hosts in 2016.
One of his most popular songs among Chinese fans is On a Slow Boat to China. They apparently enjoy the number due to its title, although it refers to something that takes a very long time.
About two years ago, Thompson started to receive emails and messages from Chinese fans, who shared their feelings about his music. With his smooth guitar-driven melodies, he now has more than 30,000 followers on his page on Net-Ease Cloud Music.
"I didn't know much about China, but I was eager to explore it," he said. During his trip to the country, he was drawn to its ancient history and he also bought some traditional musical instruments.
He even wrote a song just after he arrived in Shanghai, titled From Shanghai to Anywhere Else, which voices his feelings about the country.
In 2017, China was a new entrant to the global top 10 music market, and rose to seventh place last year, according to the report by the International Federation of the Phonographic Industry. The country's music market has enormous untapped potential, with an online user base of 650 million people and a growing number of licensed digital services, according to the federation.
Since its launch in 2013, NetEase Cloud Music has collaborated with more than 200 music companies on legal copyright issues. The music platform now has over 30 million authorized songs, which have attracted about 900 million comments.
Mathew Daniel, vice-president, international, of NetEase Cloud Music, said almost 90 percent of its music is Western, as it represents the largest growth category.