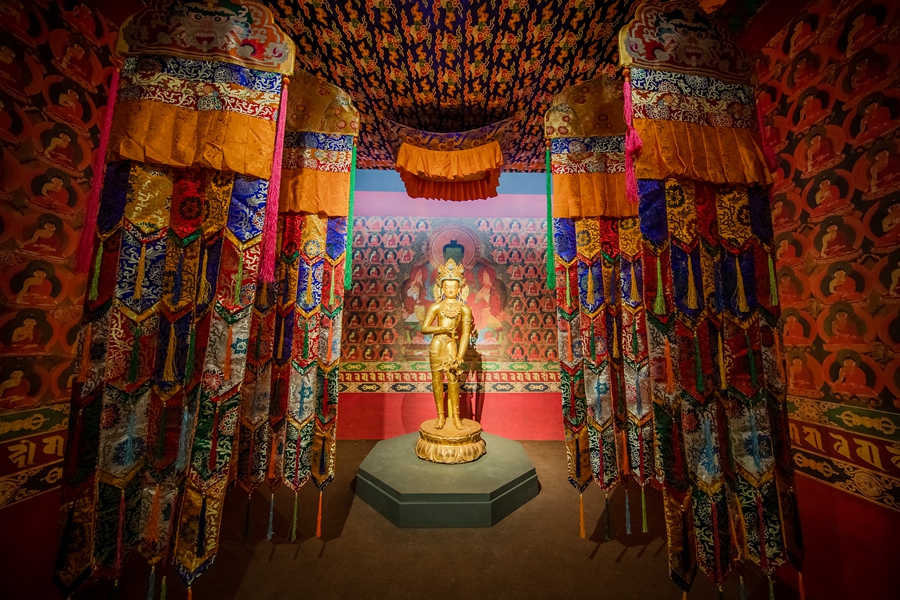 An 18th-century gold-gilt red brass statue inlaid with pearls and turquoise gems portraying Maitreya, or the "future Buddha", from the Tashi Lhunpo Monastery in Shigatse, Tibet autonomous region, goes on display at an exhibition in Beijing.[Photo provided to China Daily]
Centuries of exchanges between the Panchen Lama and the central government are highlighted in a new Palace Museum exhibition, Wang Kaihao reports.
They may be nearly 4,000 kilometers apart, yet the Forbidden City and the Tashi Lhunpo Monastery are two key landmarks that have enjoyed historically close connections.
The two places, while separated by a vast distance, jointly tell the centuries-old story of the close connections between the Chinese central government and Tibet.
The Fortune and Longevity of Sumeru: An Encounter Between the Tashi Lhunpo Monastery and the Palace Museum, an exhibition at the Palace Museum which opened to the public on Dec 10, introduces people to the splendid fine arts and rich cultural artifacts from the monastery.
Just as the Forbidden City was China's imperial palace from 1420 to 1911, the Tashi Lhunpo Monastery in Shigatse, Tibet autonomous region, was constructed in the 15th century and is the seat of the Panchen Lama, a Tibetan spiritual leader.
The exhibition held in the Meridian Gate Galleries of the Palace Museum showcases 280 cultural relics, 77 of which come from the monastery while the rest are curated from the permanent collection of the museum. It will run through February.