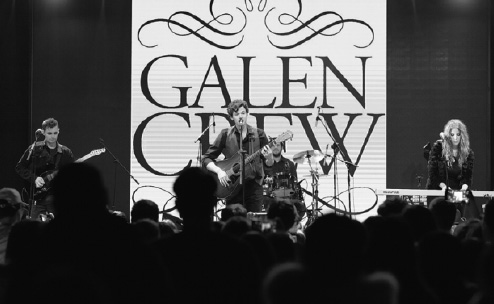 Galen Crew, who also writes his own songs, toured seven Chinese cities from Nov 28 to Dec 7. [Photo provided to China Daily]
His popularity in China has extended to the US, where he now has a great number of Chinese followers.
"My music is actually much more popular in China than in the US. I have fans in the US and I have toured many states there, but these fans are typically not as passionate about my songs as those from China. However, when people in the US hear about my popularity in China, they are fascinated by this," Crew said.
"My American friends are always asking me about China and about my fans there. I have told many people in the US about the wonderful experiences I've had in China and the interesting things I've learned about Chinese culture. I have fallen in love with the Chinese people. It is very heartwarming for people to hear about this unique international connection we share."
His recent tour, titled Apologue, features 20 songs he released in four separate volumes.
"I wanted the tour to sort of make listeners feel as if they were reading a book of fairy tales as they listened to the songs. This project is a journey of adventure and excitement, but also what it feels like to walk through sadness and hardship," Crew said, adding that he used his own life experiences to craft songs that can relate to everyone. "Ultimately, I want people to feel a sense of hope and peace when they listen to them."
His latest release is I Want You Close Forever. The artwork to promote it was done by a fan in Shanghai named only as May. Crew released the number in China before the rest of the world, saying, "It's almost like a love song from me to the Chinese people."
During his debut tour of China in 2016, he wrote a song titled Fragrance. Crew said he was so inspired by what he was experiencing in the country that "my mind was kind of blown". He had never been to China before, and yet huge numbers of fans were coming to his shows and singing along to all the songs. He even featured the traditional Chinese instrument the erhu in Fragrance, as well as filming the video for it in China.
NetEase Cloud Music, where Crew can see fans' comments and how they react to each song, has helped him reach out to his followers in the country.
"My songs first became popular on NetEase Cloud Music, so I knew I needed to focus on engaging my audience there", he said.
In August 2016, one of Crew's songs, Sleepyhead, received nearly 20,000 comments, later becoming one of his most popular in China.