Events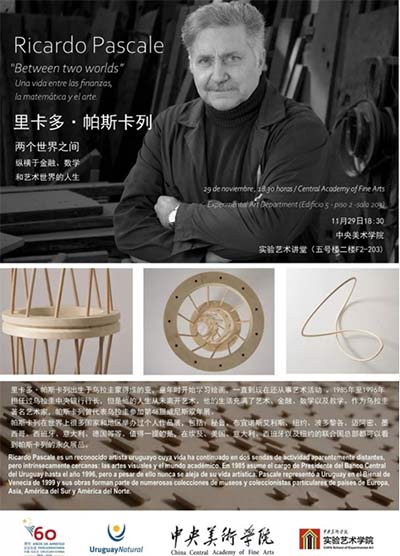 Poster for Uruguayan artist Ricardo Pascale's lecture at CAFA [Photo/Official WeChat account of the Uruguayan embassy in China]
Uruguayan artistRicardo Pascale'slecture at CAFA
When a visual artist is also an economist, it is jaw-dropping enough. However, Ricardo Pascale, a Uruguayan visual artist and established economist, even held office as the president of his country's Central Bank for a decade.
In 1999, three years after he retired from his position at the Uruguayan Central Bank, Pascale was invited to participate in the Venice Biennale representing Uruguay.
Today he will give a lecture titled "Between Two Worlds" at the Central Academy of Fine Arts in Beijing, to share how he has walked freely between the artistic and the academic, two seemingly distant worlds.
Please send email to uruchina@mrree.gub.uy to make reservations.
If you go:
6:30 pm, Friday, CAFA School of Experimental Art, 8 Huajiadian South Street, Chaoyang district, Beijing北京市朝阳区花家地南街8号中央美术学院实验艺术学院