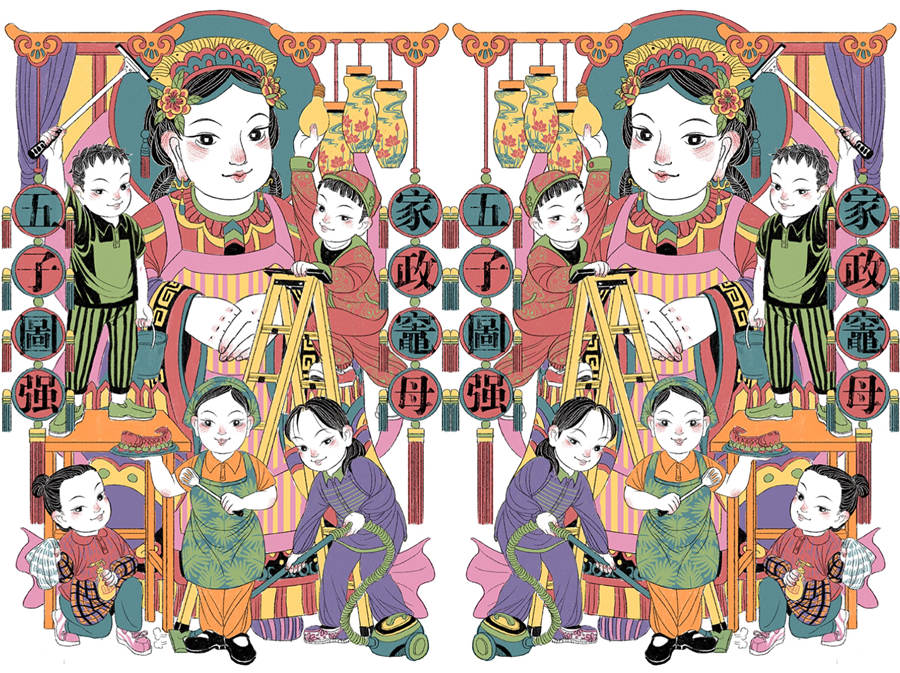 Neo-nianhua works, jointly created by young designers and nianhua artisans, were on display side-by-side with traditional nianhua pieces during the Conference on Nianhua's Inheritance and Development, held from Nov 23-24 in Weifang, East China's Shandong province. [Photo by Zhong Xinglin/provided to chinadaily.com.cn]
Zhong Xinglin made a hard decision in early 2017— to quit working as a local news correspondent for the web edition of the People's Daily in Central China's Hunan province.
Truly taking pride in her six-year stint at the influential media website, however, Zhong, was beckoned by her true calling to join her father's endeavor to revive nianhua.
Nianhua, aka Chinese New Year pictures, are a type of chromatic woodblock prints that boast a long history dating back to the Western Han Dynasty (206 BC-AD 24).
Zhong's family has been engaged in the nianhua-making business for more than a century.
However, "as Chinese society evolves at breakneck speed, nianhua, a typical token of a traditional way of life, is losing ground in contemporary life. Now it's my turn to keep the old art and craft thriving in the 21st century," Zhong told the audience at the opening ceremony of a conference on Chinese New Year pictures' inheritance and development, held from Nov 23-24 in Weifang, East China's Shandong province.