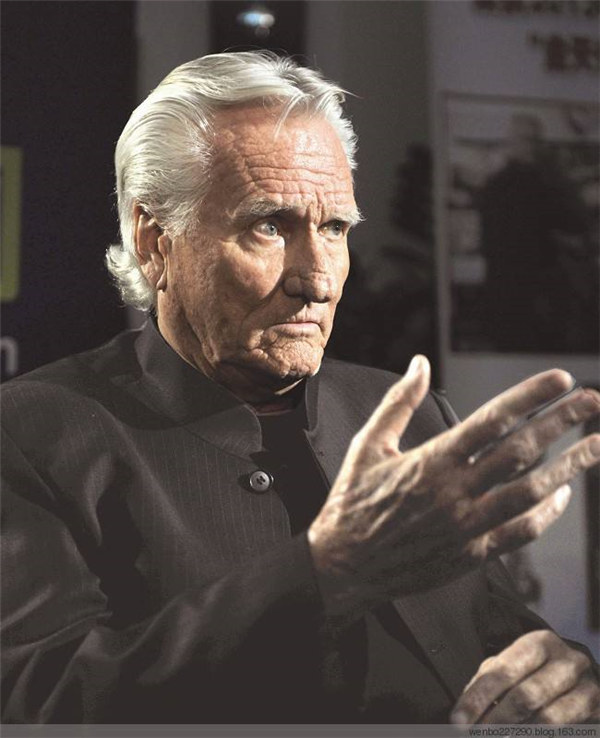 Documentarian Chris D. Nebe. [Photo provided to China Daily]
Guests moved through the verdant, clipped lawns of Mount St. Mary University Los Angeles campus recently making their way to Amat House, where documentarian Chris D. Nebe's new film, Yibin: Golden Gateway to the Yangtze River, showed them a side of China rarely seen by foreigners.
The film incorporates striking images of evocative ancient petroglyphs depicting hunters and horsemen chiseled into the cliffs by ancient artists of a bygone era; heavily-laden mountain ponies toting vegetables to market through treacherous mountain passes; small fishing vessels bobbing down the river as fishermen ply their trade; and many other more personal and cultural views of Yibin, a city in Southwest China's Sichuan province depicted as a gateway to the mighty Yangtze River.
The film showcases Yibin as the classic embodiment of the Chinese Dream, a vibrant medley of ancient Chinese traditions and thriving modern industries.
As part of China's historic Tea Horse Road, Yibin has been an important trading center for over 2,200 years. In the past, it has been most famous for its tea, liquor, calligraphy, and bamboo. Today, the city is also moved into manufacturing automobiles, high-tech mobile phones, and medical devices.
"I didn't choose Yibin, Yibin chose me, but it's a really fascinating place," Nebe said, adding that his aim with this film was to paint a different picture of China.
Nebe started his career as a film distributor in Germany before turning to documentary writing and directing. To date, he has made over 20 documentaries, many done collaboratively with China.
The director feels that Western prejudices often prevent them from being open to understanding China.
"The West has too much fear and inherent racism," he told Xinhua.
JJ Osbun, vice president of Nebe's Monarex Hollywood company concurred that "the false image of China that most Americans have is a threatening and scary one".
" (Western) politicians use China to create fear and further their own agenda so people won't pay attention to the terrible things they're doing," Osbun said. "We focus on the Chinese people and on sharing their unique culture with the West, so that people can relate to them and don't think of them as 'the other' anymore."
Nancy Machado, board president of MSMU, agreed, stressing "the importance of learning history and diverse cultures." She said the only way "to do that is through people meeting people and coming together like this."
MSMU, a 94-year-old private college who contributes 25 to 35 graduates to the Hollywood film industry per year, co-hosted the screening with its MBA Alumni Group, Greetings Fellow Members, and the Los Angeles-Guangzhou Sister City Association.
Machado said people "can get a better appreciation of Chinese culture" by having more such films. Nebe paid his first visit to the Chinese mainland in 1995. He picked up his first job there with Hunan Satellite TV, one of China's leading television stations.
Nebe said he is impressed by the Chinese people's extraordinary journey in recent times and sees a bright future ahead for the country.
" (The Chinese) have been waiting thousands of years for this. This is their century. I say: 'Go for it!'"
Xinhua