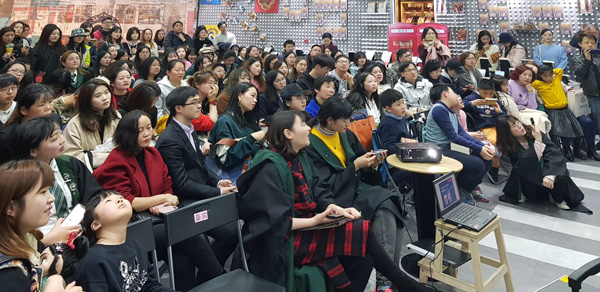 A recent Harry Potter book release turns into a fans' cosplay party in Beijing. [Photo provided to China Daily]
Bilingual Harry Potter
It's almost 20 years since the first Harry Potter book was introduced and translated into Chinese. One of its translators, Ma Ainong, says what author J.K. Rowling achieved was turning children's attention from the internet and TV back to reading books.
In China, too, there are an increasing number of young readers who are able to read the books in their original language of English.
The first bilingual version of the Harry Potter series, by Rowling and her Chinese translators, would be a great help for them to elevate their understanding of the text, and in the meantime appreciate the art of translation, as well as the beauty of both languages.
The editors say the English texts are the latest, freshly revised ones authorized by the British publishers.
To create an evenly-balanced presentation, both languages are put on the double-page spread with English on the left and the Chinese on right.