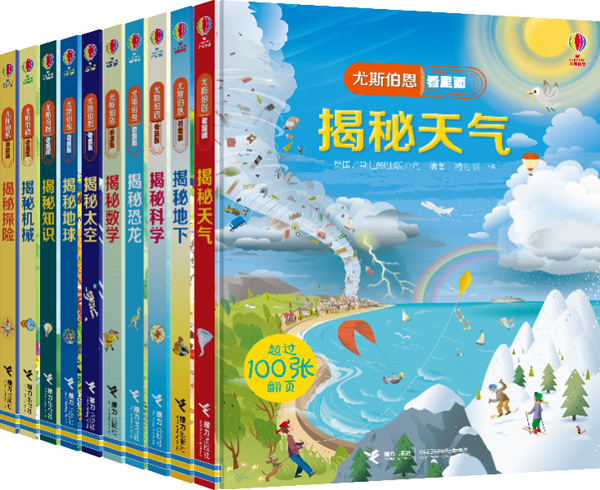 The cover of the See Inside series. [Photo provided to China Daily]
Usborne Flip-flap series
The time-honored Usborne's Look Inside series from the United Kingdom has arrived in China.
Previously with its two other series, See Inside and Peep Inside, Usborne Publishing has both educated and charmed young readers in 37 countries and regions for years, and sold 100 million copies worldwide.
Usborne has now published a See Inside book on ancient China.
Jieli Publishing House has been Usborne's authorized Chinese publisher since 2018. Jieli has brought three of Usborne's writer-editors to visit five Chinese cities. Jane Chisholm, Anna Milborne and Katie Daynes say they have 20 writer-editors and 20 designers, many of whom are Oxford and Cambridge graduates. It takes one year or more for them to plan and finish a flipflap book. Their boss, Peter Usborne, started four decades ago and prides himself on still having "the mind of a child".
The editors, who are also writers of the books, have enjoyed trips to visit famous architectural sites such as the Palace Museum.
China is "so big and so important, and globalized", they say, adding they would "pitch more books on China, not just because they're Chinese, but because they're good stories".