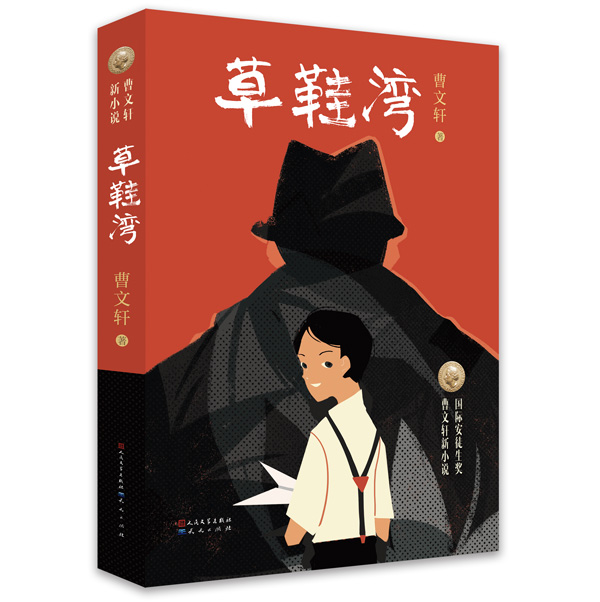 The cover of Cao Xie Wan. [Photo provided to China Daily]
Father-son detectives
Writer Cao Wenxuan, a professor from Peking University, and the first Chinese winner of the Hans Christian Andersen Award, who won the "Nobel" for children's literature and illustrations in 2016, does not seem to have any post-award writer's block.
After his award, he released three novels, which sold 900,000 copies and saw their copyrights sell to Arabic, Japanese and Turkish publishers. Now he is presenting his fourth novel since 2016: Cao Xie Wan ("bay of straw sandals").
Set in Shanghai during the 1940s, the novel is about a detective called Sha Qiuke and his 10-year-old son Sha Xiaoqiu who uncover some unexpected truths as they solve an abduction case.
Cao says this story was inspired by a William Somerset Maugham's quote saying that a detective always takes his youngest son to work, and it is his version of detection that departs from others with his unique aesthetic thought and insight.
Bittersweet early years
Fireworks is Li Donghua's latest novel about school life and a bildungsroman story of a class of 14-year-old teenagers.
Li is known for her writings for kids and teenagers, and is currently deputy director of the Lu Xun Institute of Literature under the China Writers Association.
The novel starts with Ai Mi, a plain-looking, hardworking girl who is jealous of a pretty girl with flaxen hair who has just been transferred to Ai's class. As they grow up, sad developments occur and they learn harsh lessons.
Li's works have delicate wording and poetic sentences, and address issues in deep dimensions some other writers of children's fiction might choose to ignore-subjects about the nation, the pain of growing up, and the essence of human life, according to Cao Wenxuan.