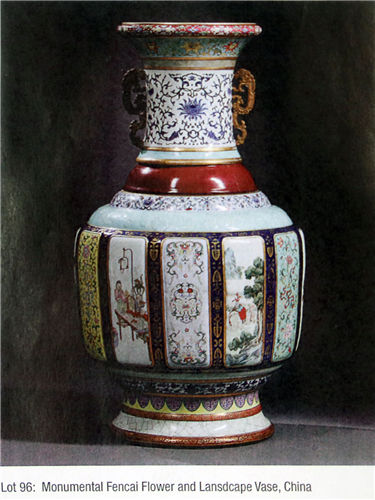 The monumental porcelain vase sold by Ton Ying for $750 in 1964 fetched $24.7 million at a Skinner auction in 2014. [Photo by Judy Zhu/China Daily]
Guarding the door is a blue and white porcelain vase almost two meters high decorated with writhing dragons. Behind the glass door a miscellany of things jostle for attention: a broadly smiling pottery boy, an intricately carved bamboo brush holder, a beautifully realized coral figurine mounted on a wooden stand, and shelf after shelf of jade and porcelain wares, followed by a retinue of snuff bottles. All swarm this 100 square meter space, which seems barely half its size because of how cramped it is. On the upper edge of the door hangs a plaque that reads: Ton Ying.
"Zhang's Ton Ying Company does not exist now, but I want to continue the memory, even in a small way," says Chen, who attributes a sizable part of all the antiques in his store now on East 55th Street to the old company. "They were passed to me through my uncle, who bought in a lot during the company's final years and who passed away in 1980 in San Francisco."
Over the years Chen has done his own fair share of research, carefully collecting every piece of information he could find on the old Ton Ying Company, an effort that has resulted in a thick portfolio of newspaper cuttings, printed archival materials and the company's auction catalogs, with the final prices next to each specific item. They are mostly two or three-digit numbers.
"In 1964 a one-room apartment near Columbia University cost me $50 a month," Chen says. "And a porcelain vase made by a master craftsman at the royal kiln of Jingdezhen in Jiangxi province routinely fetched between $50 and $200. Today you cannot expect to save a few months' rent and buy something with a hundreds-of-thousands-dollar asking price at the auction."