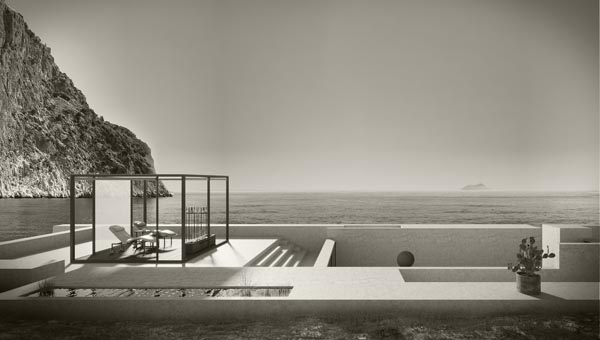 The space designed by Chi Wing Lo named The White Cliff. [Photo provided to China Daily]
An ongoing exhibition in Hangzhou looks at three decades of designer Chi Wing Lo's work, Xu Haoyu reports.
Recently, the 1-year-old China Design Museum in Hangzhou, Zhejiang province, opened its first solo exhibition of a Chinese designer.
The exhibition called Essence will run until the end of May and covers three decades of Chi Wing Lo's work, spanning architecture, interiors, furniture, utensils and sculptures.
Lo, who was raised in Hong Kong, received his master's degree in architecture from Harvard University, where he bagged the prize for the best thesis in 1988.
Then, he spent two decades pursuing design in Italy. And in that course of time, he held solo exhibitions in many places, including Italy, Taipei, Hong Kong, Beijing and, most recently, Bangkok.
In 2015, he won the DFA World's Outstanding Chinese Designer award presented by the Hong Kong Design Center.
"I never think of myself as a master," he says. "I feel like a child because I have new inspiration almost every day.
"I have no secrets. I just pay attention to life."
For such works as the Wooden Box Series 2015 and Scholarly Implements 2016, Lo uses small rectangular parts that resemble modern buildings. Thanks to low partitions placed around like old city walls outside the Forbidden City, the whole piece looks much like a miniature of the city, combining its past and present.
To understand Lo's works, one needs to look at them from an architectural perspective.
Just as in the imprints of architectural spaces still visible in the ruins of ancient cities give a glimpse of traces of life that once thrived there, in Lo's works, people can see the actions and gestures that accompany their everyday lives.
Tease Stone Screen, which Lo created in 2014, attracts attention because it's created using two large, translucent silk disks. Two lively crabs are embroidered on them. Thanks to the celebrated technique of double-sided embroidery from Jiangsu province's Suzhou, the crabs' abdomens and backs appear on different sides.
Lo also makes people "hear" sounds with their eyes and their imaginations.