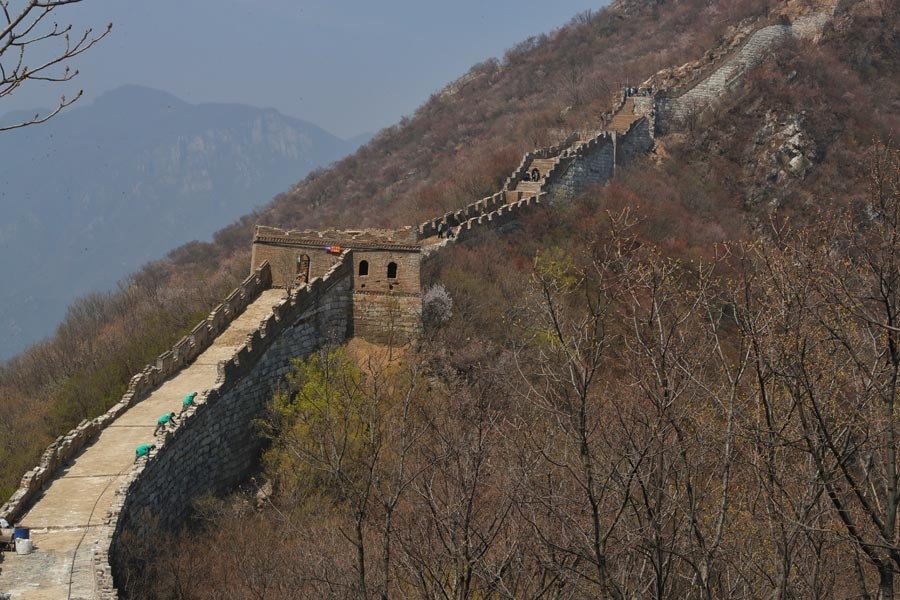 Jiankou, one of the toughest sections of the Great Wall to climb in Beijing, is going through its second phase of restoration. [PHOTO BY JANG DONG AND WANG KAIHAO/CHINA DAILY]
The second phase of restoration work on the toughest section of the Great Wall is soon to be completed, Wang Kaihao reports.
There is little doubt that Jiankou is the toughest Beijing section of the Great Wall to climb. From the base of the hills in Huairou district, there is hardly a proper road that leads up to the wall except for a rocky path through cliffs. And in many places, the wall has collapsed, so walking along the top may lead to crawling as well.
Nevertheless, Li Jingdong and his colleagues from a restoration team have to try walking over this section of the Great Wall twice a day.
"Our tractors can only reach the base, and then we need mules to carry the bricks to the top," he says.
An ongoing restoration on Jiankou started last June and will likely finish in a couple of months. It covers a 744-meter stretch of wall built in 1606 during the Ming Dynasty (1368-1644). This is the second phase of restoration of this part of the wall, after the first phase was completed between 2016 and 2017.
It took almost two hours for reporters, invited by the local government, to climb to the highest point of the Jiankou section on Tuesday to observe the restoration work. Li made it in half an hour.