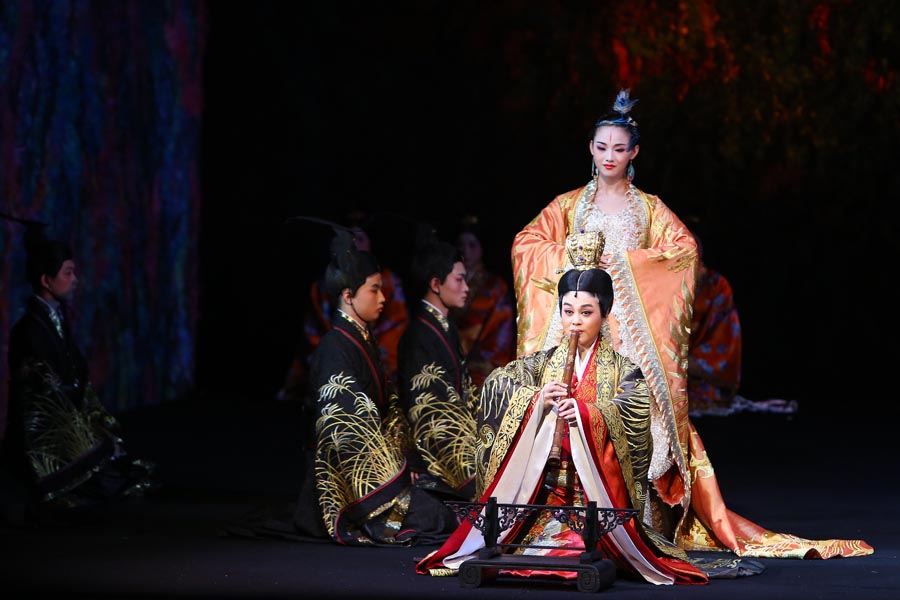 Chen Enhui (front), deputy director of the Nanyin department at Quanzhou Normal University, her colleagues and students stage Feng Qiu Huang (Phoenix Courting His Mate), a hit play since its debut in 2015. [Photo provided to China Daily]
Allure of ancient music form reverberates again as it strikes a chord with young people, Xing Wen reports.
It's the sound of music but also a chance to listen to the melodic echoes of culture, lovingly passed down through the generations. Dubbed "a living fossil of Chinese musical history", Nanyin was listed as a UNESCO Intangible Cultural Heritage in 2009. Ten years on, its ancient sound is still winning over enthusiasts.
When Zhang Yongjie, a college student from Ningde city, Fujian province, visited Quanzhou, another city in Fujian, in 2016, she was enchanted by a scene at an elegantly-decorated teahouse. Situated deep in an alley was a five-member band playing Nanyin music, with clappers, a flute and stringed instruments including the pipa (Chinese lute) on stage. The audience relaxed on wooden chairs, sipping their drinks and were mesmerized by the songs of the Minnan dialect of southern Fujian.
"In the exquisitely-decorated place I felt relaxed with melodic tunes lingering in my ears. And I saw the audience simply indulged in pleasure," says Zhang, 27. "I was surprised to see the traditional music form could be so integrated into local people's daily life."