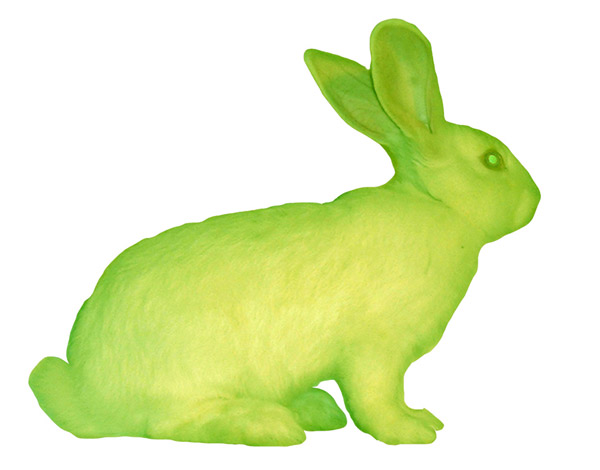 A photo of an artwork on show at Beijing's 798 Art Zone, GFP Bunny, a transgenic artwork featuring a green fluorescent rabbit. [Photo provided to China Daily]
Glowing bunny rabbits, meat-based meals grown in petri dishes and swarms of insects are all featured in an ongoing exhibition of "bio art" being held at Beijing's 798 Art Zone.
The exhibition, Quasi-Nature: Bio Art, Borderline and Laboratory, curated by Wei Ying from the Central Academy of Fine Arts, looks at the complex relationship between humans and nature, and examines how far technology can be pushed before it raises moral and ethical challenges for society.
Wei spent six years studying biological art and developing relationships with 11 artists in the field around the world. She then spent three months assembling the collection, where many of the works are making their debut in China.
For example, the photo of the GFP Bunny, a transgenic artwork featuring a green fluorescent rabbit created in 2000, is on show. The artist, who cooperated with a scientist, combined jellyfish and rabbit DNA to produce a bunny that glows bright green under blue light. GFP stands for green fluorescent protein.
In the image taken from the artwork Nature?, the artist Marta de Menezes created live butterflies with their wing patterns modified for artistic purposes in 1999.
In the 2000s, works like these sparked fierce controversy in the West because they raised the question of whether humankind had replaced God as the role of the creator in life, says Wei. Eduardo Kac, the artist behind the glowing bunny, said he was depressed by criticism he faced at that time.