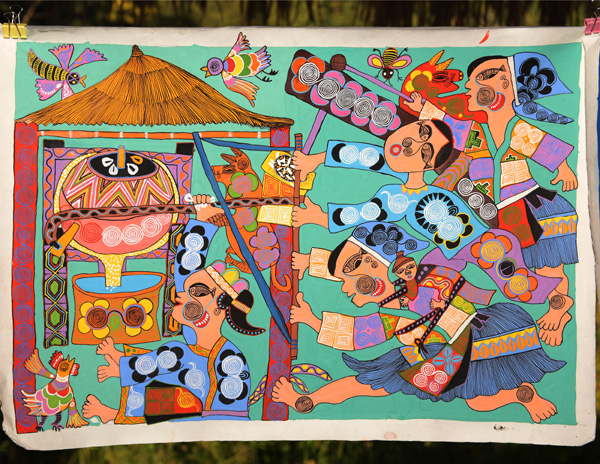 [Photo provided to China Daily]
Hu says she was amazed by farmer paintings when she visited the Art Museum of Chinese Farmers, which opened in Longmen in 2011. And Hu says she was then inspired to add elements from those paintings to some of her company's products, such as scarves.
However, scarf dyeing mostly involves patterns from traditional Chinese or oil paintings, which can involve up to a dozen color systems. The patterns for farmer paintings, on the other hand, need 40 color systems, a challenge that was overcome only through a process of trial and error after Hu continued consulting with dye experts from Hangzhou in 2013.
So far, Hu's company has developed nearly 30 scarf patterns featuring farmer paintings, and her products sell as souvenirs for visitors to Huizhou.
This success has encouraged Hu to integrate farmer paintings motifs into other items, including clothes, home decorations, bags and suitcases.
As for the future of farmer paintings, Bi says that developing industrial parks to produce the paintings might be one answer. And, she adds that the growth of farmer painting academies, galleries and streets can also play a part in popularizing the art form.