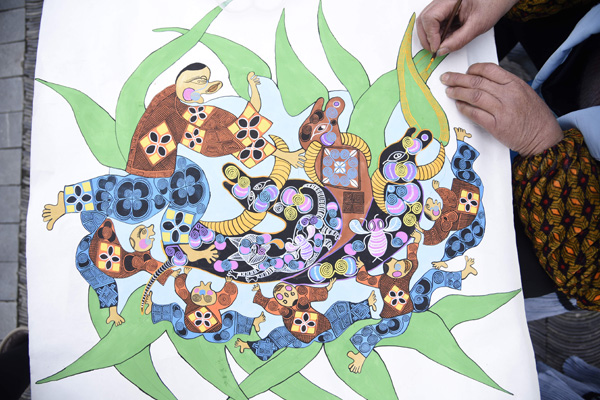 [Photo provided to China Daily]
So, bright colors and relatively exaggerated expressions are often common in these works.
So far, more than 300 counties across the country have been regularly holding farmer painting events, and more than 130 villages often present works by their residents at national art exhibitions, according to a recent farmer painting seminar in Anhui province's Huoshan county.
Approximately 30 areas have seen farmer painting grow over the years, including Jilin province's Dongfeng county, Shaanxi province's Huyi district, Shanghai's Jinshan district and Guangdong province's Longmen county.
Also, as urbanization speeds up in China, the rural living environment and means of production are changing. So, farmers are moving from unassuming houses to modern buildings and mechanical tools are replacing hoes and sickles, presenting unique challenges to exponents of farmer painting.
"Chinese farmer fine art and calligraphy need to be carried on, but innovation is also needed," says Bi Mingxin, head of the China Farmer Painting Seminar.
So, Bi wants to see innovation in painting techniques and materials, as well as derivative products.
Jiang Deye from Zhejiang province's Zhoushan uses sea sand and acrylic paint to create a strong visual impact and a sense of color in his works that showcase local fishing and rural scenes.