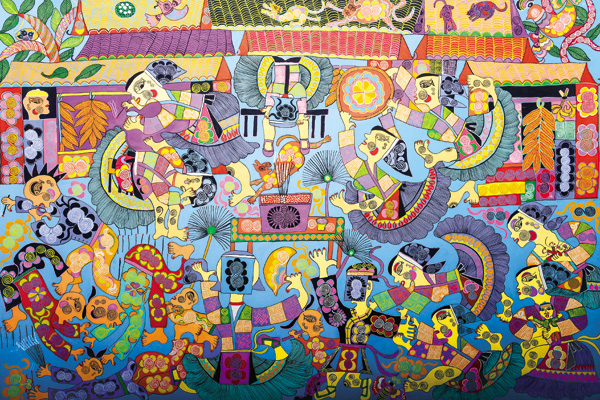 [Photo provided to China Daily]
Separately, Jiang's works have made their way to major exhibitions both at home and abroad, including France, South Korea and Japan, in recent years. And the paintings have earned him more than 300,000 yuan ($44,663) a year.
Meanwhile, Jiang has also designed an umbrella, a mobile phone case and a cushion containing farmer painting elements, all of which are popular. And Xuyuantang, a porcelain company in Fujian province, has developed a technique that applies calligraphy and painting to porcelain plates.
This technique can serve as an alternative medium for farmer paintings and help to develop more derivatives with artistic value, says Chen Fubo, the company's president.
In Longmen county of Guangdong's Huizhou city, a cultural and creative industry based on farmer paintings has taken shape.
And a beneficiary of this development Huizhou Emei Culture Development founder Hu Lihua says: "I never expected farmers to have so much wisdom as to paint Chinese folk customs and farming culture in such beautiful ways."