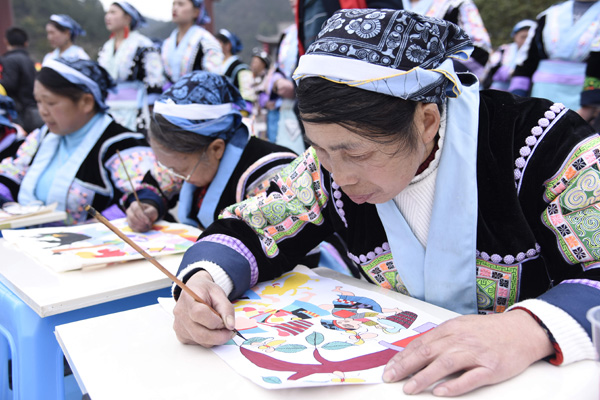 [Photo provided to China Daily]
Lan Youjiang's life might have turned out quite differently, if it weren't for the art of farmer paintings, which feature elements of rural life.
Lan, who was born and bred in southwestern Guizhou province's Longli county, suffered a childhood disease that caused paralysis of his right leg, but he managed to persist in doing farmer paintings due to his interest in the art form.
Many of his works reflect the understanding of the local Miao ethnic group, their rich imagination and aspirations for a better life.
Lan has sold more than 30 works online since 2016.
"Farmer paintings have not only brought me material wealth, but also changed my destiny," the artist says.
Lan is one of an army of Chinese farmers who engage in a traditional art that is gaining increasing popularity.
Farmer paintings began in the 1950s and are closely connected to the development of agriculture, farming and village life, says Zhao Jiazhi, a farmer painting expert.
And they are usually characteristic of working people's feelings, as well as rural folk customs and traditional art.