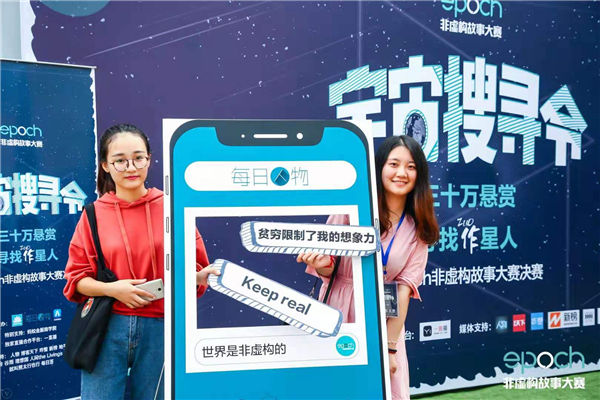 Participants of the Epoch event in 2017. [Photo provided to China Daily]
However, it's natural that those beginning to write are interested in people and things around them. As the general environment for writing gets better, more and more of them will probably turn their focus to larger topics, according to Zhao.
While there seems to be no strict definition of what constitutes a nonfiction work, the bottom line is clear.
"Telling the truth is the most important boundary of nonfiction work," says Liu Shiyu, who is in charge of the Epoch competition. "Under the premise of staying true, diversity in stories is wanted."
However, the sector underwent a crisis of confidence as a "nonfiction" story about death of an underprivileged, but high-achieving, student went viral online in January.
It was posted by a WeChat public account run by the team under Mi Meng, a controversial key opinion leader.
The first-person narrator described the story of "my friend Zhou Youze" who got the highest score in the college entrance examination in his province and who worked hard while maintaining a high moral standard after graduation to support himself and his family.
However, his diligence, integrity and endured hardships seemed inefficient in an impetuous society driven by desire. Then, fate intervened and he died of cancer. It was a heartbreaking story but it was not true. It was fiction.
Netizens had listed a number of suspicious details that the author claimed were there to protect the true identity of the person.
The event has pointed out the importance of enhanced fact checking. According to Liu Shiyu, they have asked authors to keep interview recordings, contact information of the interviewees and all of the original materials for verification.
Both Li and Zhao believe that authentic details and feelings are more touching than fictional or exaggerated ones.
It'll be meaningful if the event could raise a serious discussion of the standards of nonfiction writing, according to Zhao.
"After all, the power of nonfiction lies in revealing truths that not everyone wants to face," says Li.