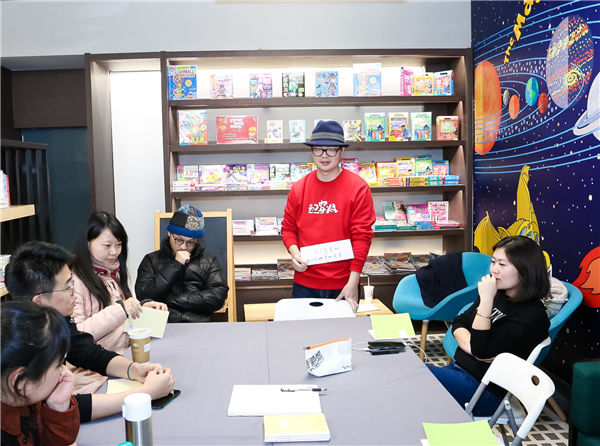 People in discussions at the Shanghai event. [Photo provided to China Daily]
The competition has encouraged more people to record the stories of their lives, according to participant-turned-judge, Zhao Siqiang.
Unlike feature stories that are usually based on interviews, written by professionals and often take a long time to complete and polish, nonfictional stories-in this context referring to single articles that tell true stories-are friendlier to those trying the format for the first time, Zhao says.
For last year's competition, Zhao, then a greenhorn journalist, wrote a story of how his family celebrated Spring Festival in 2018 after a series of misfortunes.
Two of his cousins got divorced the year before, one of his aunts had most of her stomach and gallbladder removed because of gastric cancer, and his grandmother lost her sight.
For the first time, the 23-year-old, who had just graduated and started working in the media, felt the vulnerability of the older generation.
"Nonfictional story writing provides the authors with an opportunity to rethink their relationship with their family and hometown," Zhao says, adding that it was when he took up the pen that he started to become an observer of his own life through an alternative perspective.
Zhao later won a position at the Hedgehog Commune as a journalist.
Writing for oneself
With digital media it's now easier than ever for people to express themselves, according to Li Zixin, founder of China 30s, an online nonfiction writing platform.
"They've discovered their urge for storytelling and they believe they can make it," Li says.
He says that China 30s' story sharing platform and writing courses-both online and offline-have attracted people of all vocations and, according to Zhao, authors classified as middle-aged are making their mark.
They focus more on personal experience and government issues, which tend to show their collective thinking, while younger writers discuss topics, including social issues, music and films.
Writing competitions are booming these days too.
News outlet ThePaper has been working with news aggregator Toutiao and Fudan University to launch a nonfiction writing competition with total prize money of 300,000 yuan ($44,687). The topics can be public issues or individual experiences and the closing date for entries is April 7.