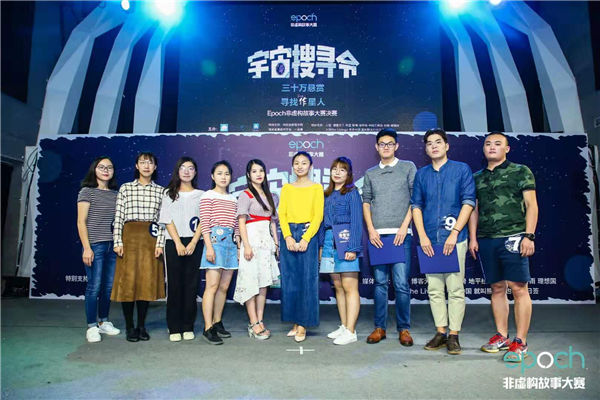 Winners of the 2017 Epoch Nonfictional Story Competition. [Photo provided to China Daily]
The individual struggle of self-identity, the parent-child relationship and personal career issues that were not likely to be recognized by traditional media institutions are getting an outlet in the narration of amateur writers.
Li exemplified this trend in changes of China 30s' focus over the past eight years, from the earliest posts in the form of Q&As, to the third-person stories which started to appear around 2014. The majority of these, in Li's opinion, were applying a traditional news writing style and not so appealing to readers.
Finally, in recent years, first-person narration has started to dominate the field, and the organization has turned from merely a content producing platform, to a crowdsourcing aggregator whose nonfiction works are mainly generated by their trainees under the guidance of the editors.
Sometimes it takes a month for the authors and editors to discuss and polish one single article, because those not doing it full time have other commitments and are still learning, according to Li.
China 30s is one of the many nonfiction platforms to hold paid courses for creative writing, which are mainly developed from common practice in traditional newsrooms and focus on the writers' awareness of the readers, critical thinking and their own writing skills.
"It is like breaking the sealed jar of journalism and scooping out the content that will be of most interest to people," the former journalist says.
Instead of digging deep into one single story, Li has created a system for subject exploration and the authors are able to think and write around a same theme from different angles.
The truth counts
Looking back on his submission for last year's competition, Zhao regrets that it was limited to personal experiences rather than framing a larger picture of the story's social background.
This, plus excessive expression of emotions, are common shortcomings in submitted works, Zhao points out.
He cites a story featuring the spread of e-commerce and mobile payment in rural areas. The author failed to detail the difficulties of building power grids and communication networks, so the potency of the story was diminished.
Liu Mengzhi, an associate professor at Shaanxi Normal University, told Hedgehog Commune in an earlier interview that current nonfiction writing is largely influenced by long feature stories written by professional journalists, which often emphasize the complexities of human nature instead of in-depth involvement of historical or social observation.
"Overall, there's a lack of quality nonfiction works," Liu says.