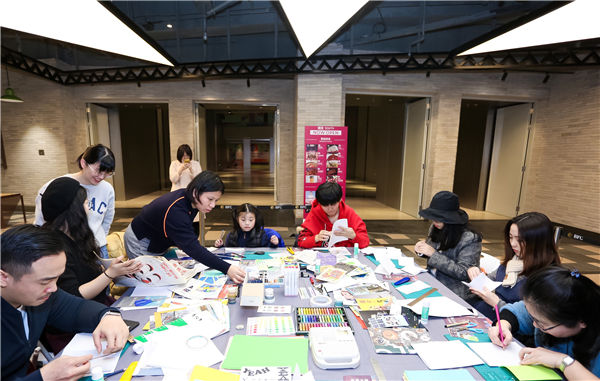 Young amateur writers participate in an offline writing event in Shanghai organized by China 30s in January. [Photo provided to China Daily]
First-time authors get guidance and help to pen nonfiction works and show the power of words.
The Spring Festival holiday witnesses the world's greatest movement of humanity as people working and living in cities return to small towns or villages for family reunions.
It's also the time they marvel at the changes that the internet has or hasn't brought to every tier of society, throw themselves back into intricate family relationships and experience the cultural shock of traveling from modern cities to the traditional communities in their hometowns.
The sights and sounds, as well as the emotions triggered, have become a constant inspiration for writing.
While feature journalists and humanities and social science scholars have contributed to some of the most outstanding nonfiction works in China, more and more amateur authors are actively writing down their own stories.
The burst of New Year journals is just one typical reflection of the phenomenon.
New Year journals
"At the same hospital, my little half-sibling, 24 years younger than me, was born in the obstetrics department on the fifth floor, nine days before my 82-year-old grandmother's condition was declared critical at the respiratory department on the 22nd floor and she died the following day at home."
This is how Zhang Jin from Nanjing University begins her story titled Xiao (Younger) Zhang and Lao (Elder) Zhang Who Failed to Meet Each Other. In a diary style, the story depicts what happened to Zhang's family at that time. It details Zhang's initial objection to her father having another child, her joy at the birth of her younger sister, and a grudge she once held against her grandmother, who kept asking her to accept the fact and go back home.
At the end of the story, "everything seems back to normal", as the author overcame the struggle of reconciling with her family.
The story reminds some readers of the intricacies of their own family ties. It won first prize at the third Epoch Nonfictional Story Competition, jointly held by Hedgehog Commune, or Ciweigongshe.net, an online media platform, and short video platform Kuaishou.
Ye Weimin, a former journalist and one of the judges, speaks of the story as "presenting the truth of how life alternates and continues itself".
"The birth and death not only drives the story, but also provokes readers' emotions and thinking," Ye writes in his remarks.
This year's competition sought to collect New Year journals about returning home, especially those observing how the authors' hometowns had fared under the influence of the internet.
The organizer received more than 400 candidate articles and 1,505 short videos for the competition held from Jan 18 to the end of February, with seven of the written articles getting more than 100,000 clicks online.