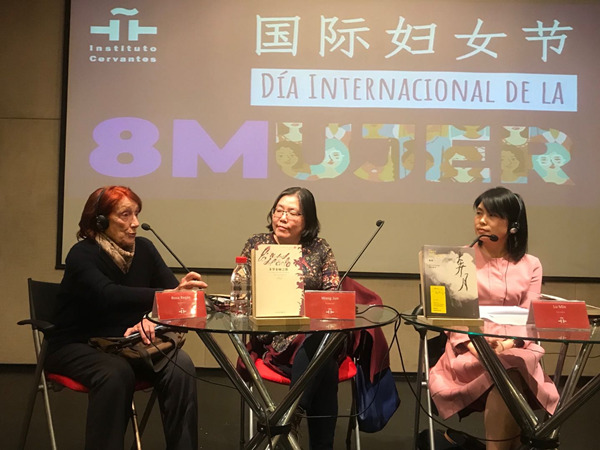 Spanish writer Rosa Regàs (left) expresses her view on gender equality with Chinese writer Lu Min (right) and Peking University professor Wang Jun (center), at the Cervantes Institute in Beijing, on March 8, 2019. [Photo provided to chinadaily.com.cn]
Last Friday, Spanish writer Rosa Regàs together with Chinese writer Lu Min and Peking University professor Wang Jun shared their insight on gender equality, women's literature and feminism under a contemporary scope.
The event, hosted by the Cervantes Institute and the embassy of Spain in Beijing on the occasion of the International Women's Day, aimed to raise public awareness on gender equality and self-development among women.
Regàs, who used to work with the United Nations, said in her speech that she has observed the difficulties faced by women around the globe. "Gender equality is more of a social problem needing the support in politics and legislation. We need to reflect upon the past in order to understand the present and make progress in the future," she said.
As a prominent figure in Spanish feminist movement, Regàs encourages women to understand better about the reality. "Every woman should make her contribution to the cause, to fight for the equality."
Writer Lu Min summarized the history of women's right movement in Chinese history, and added that was still a long journey ahead. "Now women have the right to get education, work, and freedom of marriage, but we are still bound to many patriarchal values and aesthetics."
At the end of the meeting, Regàs compared the path of gender equality as a learning process. "Like the society in development, us women need to learn and evolve as well. Step by step, you can get rid of the things that prevent you becoming a better version of yourself."