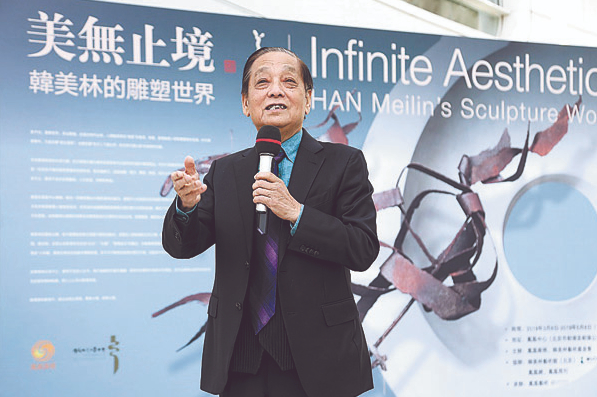 Han Meilin opens his solo exhibition at Beijing's Phoenix Center on March 8. [Photo provided to China Daily]
Then, as part of the project, he traveled with his friends and students to remote villages inhabited by ethnic groups. And it was these extensive journeys that enabled him to build an abundant trove of pictorial elements from ethnic outfits, daily-use objects and ceremonies.
"There is still much room for me to progress (in painting and sculpting pigs)," he says.
His other works on show are reminiscent of the smooth movements when one practices tai chi or when one wields a brush to produce energetic strokes of calligraphy.
These works are imbued with poetic elegance and a historic depth.
As for the future, he says his approach to art is not diverse enough.
"I have to catch up with others. I have a lot of things to learn. For example, I've been thinking about the influence of mobile technology," he says.
"As an artist, it is never too late to evolve and keep pace with the times."