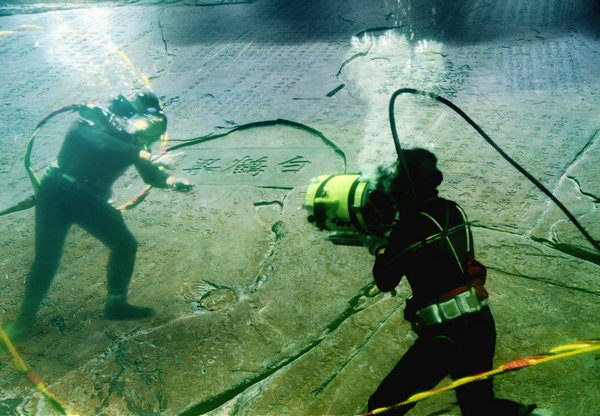 Divers conduct protection work at Baiheliang stone ridge in Chongqing's Baiheliang Underwater Museum. [Photo provided to China Daily]
A legislator is urging the training of more professional and high-level heritage conservation talents.
China, as one of the earliest cradles of civilization, has substantial amounts of cultural relics, but only a limited number of heritage protection professionals, said Su Bomin, an NPC deputy and director of the Protection Department of the Dunhuang Research Academy, which is responsible for the conservation and management of the Mogao Grottoes.
"We have so many precious cultural relics in need of scientific and systematic protection, while the lack of professionals hinders that endeavor. This is a paradox," Su said.
Su observed that though in recent years authorities have provided much financial support for heritage conservation, cultural relics in some regions still don't have due protection because of this paradox.
Su's research shows that about 60 universities in China offer a major in heritage conservation.
"Despite that, there are issues, like there is no standard teaching material and systematic training mode," Su said.
In addition, heritage conservation, from the current educational perspective, is still in the range of history, museology or even art. "It should have an equal position as other disciplines," Su said.
Through the experience of many years of practical work in Dunhuang and international cooperation, Su suggested heritage conservation be treated as an independent discipline and two kinds of talents be trained. First, cultural heritage scientists who conduct fundamental research, and second, talents with high-level restoration skills.
Su also calls for more innovative measures to protect cultural relics and raise the public's awareness for heritage conservation.
The fast development of digital technology helps better restore the information of cultural relics and by using the internet, more people can appreciate the beauty of ancient relics.
"We noticed that recently the topic of cultural relics has become a hit on the internet and also in actual life," Su said.
The Dunhuang Research Academy, therefore, is making the effort to digitalize the wall-paintings in the Mogao Grottoes and develop derivative cultural and creative products to attract more young people, according to Su.