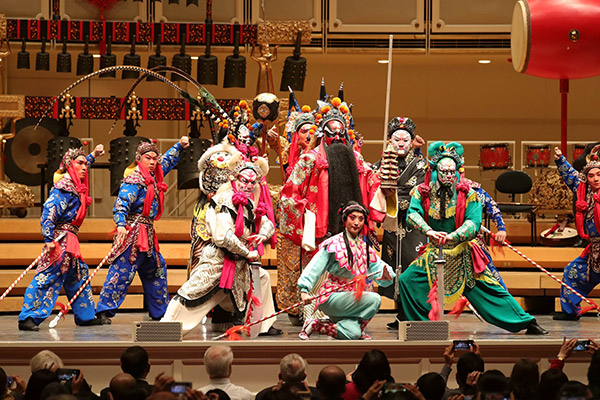 The Hubei Chime Bells National Chinese Orchestra and the China National Peking Opera Company jointly stage a Spring Festival show at the Chicago Symphony Center on Feb 10. [PHOTO BY WANG PING/XINHUA]
"Without music, life would be a mistake."
The words of Friedrich Nietzsche must have eluded no one, as artists adopted a plethora of music genres to ensure this year's Lunar New Year celebrations in the United States were a success.
From Peking Opera's stylized singing to Frank Sinatra's evocative tunes and music maestro Tan Dun to dashing young composer Du Yun, and Western instruments such as the violin to the traditional Chinese zither, melodies of classics and modern favorites spoke directly to the ears and hearts of audiences in settings as diverse as the solemn Kennedy Center in Washington or a bustling transportation hub in New York City.
The first day of the Spring Festival holiday fell on Feb 5 this year, but merrymaking on both sides of the Pacific began about one week in advance and will last through Lantern Festival on the 15th day of the first lunar month.
For two countries that speak languages as disparate as English and Mandarin, music, as a universal language, easily comes to its own in bridging the communication gap.
The New York Philharmonic presented its eighth edition of its Lunar New Year concert at the Lincoln Center in New York on Feb 6, featuring the US premiere of Oscar-winning Chinese composer Tan's violin concerto Fire Ritual, which is influenced by the worship and court music of ancient China, and blends Western and modern elements-hand cymbals like the ones used in Peking Opera were even used by a Baroque violin ensemble.
Having celebrated Lunar New Year for eight years, the New York Philharmonic intends to "continue it pretty much indefinitely" because both locals and Chinese people here love it, says Bill Thomas, the orchestra's executive director.
"Music is a universal language. We always hope what we do will help a broad world community, including the relationship between our two nations," he says.